Your source for Mountain Biking in the Triangle

Raleigh-Durham-Chapel Hill
Beaver Dam State Recreation Area
Current Trail Status
Status
When Updated
Who Updated
More Info
Help keep this info accurate by clicking the red bicycle
closed
01/16 1:48 pm
FALA
Average ratings submitted by users
Write a review
User submitted reviews
| | |
| --- | --- |
| Category | Average Rating |
| Overall : | 4.0 / 5.0 based on 61 votes |
| Technical : | 3.3 / 5.0 based on 61 votes |
| Climbing : | 3.4 / 5.0 based on 61 votes |
| Freeride : | 1.6 / 5.0 based on 61 votes |
| Scenery/Wildlife : | 3.7 / 5.0 based on 61 votes |
| Flow : | 3.3 / 5.0 based on 52 votes |
Description
Location: North Raleigh, near Falls Lake
Miles: 15 miles
Skill Level: Beginner to Intermediate
Contact: Park office (919) 676-1027 (call to see if trails are open)
Map
Park Hours and Fees
Directions
Rules of the Trail
The trails at Beaverdam State Recreation Area on Falls Lake are a lot of fun. In my opinion, they are easier than New Light--less steep hills, rocks, and sharp turns--but harder than Crabtree. Beginners who feel comfortable at Crabtree should definitely give Beaverdam a try. There will only be a few obstacles they'll want to walk. Intermediate and advanced riders will find Beaverdam a fast, uncrowded ride but still enjoy a good workout.
Here's the details: The trails are rated beginner to intermediate and include three loops: a 2.6-mile outer loop, a 1.6-mile inner loop, a 2.4-mile west loop and more advanced 8.5-mile loop called South Loop.
In addition to the trails, there are two parking lots, restrooms, picnic shelters, grills and a lakefront beach! Great if you want to bring your kayak, fishing pole, burgers, or the rest of the family and make a day of it.

At certain times, there is a fee of $6/vehicle to enter the Recreation Area. The fee applies to bicycles too if you ride in. You can call to see if the trails are closed due to rain.

The trails may be closed due to rain, hazardous conditions, and maintenance. The trails are closed for rider safety, so please stay off them when they are closed.

Dogs must be kept on leashes at all times.

alcoholic beverages are PROHIBITED

You must enter the trails from the trail entrance within the park. Entering the trails from anywhere else is illegal.
This is the first time that the Division has partnered with an outside organization to build and maintain a trail system and the first time the Division has allowed mountain bikes on singletrack trails in a state park! Both of those items are major victories--thanks to the North Raleigh Mountain Biking Association volunteers (same folks that gave us New Light) .
Contact NRMBA to find out how you can help with future trail building and maintenance.
November-February 8:00AM-5:30PM
March, April, September and October 8:00AM-7:30PM
May, June, July, August 8:00AM-8:30PM

Fees
There is a $6.00 per vehicle (including bikes if you ride in) charge to enter the Beaverdam Recreation facility during certain dates.

Memorial Day to Labor Day: fee charged daily
April, May & September: fee charged only on weekends
October to March: no fee

A yearly pass may also be purchased good both Falls Lake SRA and Jordan Lake SRA. The price is set for the yearly pass at $50.00. Season Passes will be sold at the Park Office this year during the hours of 8-12 and 1-5pm Monday - Friday. The pass will get a vehicle into the day-use areas of Falls Lake SRA, Kerr Lake SRA, and Jordan Lake SRA.

Note that there are no longer any dates where the fee is charged before 5 PM, but not charged after 5 PM.

(NRMBA is working with the Division to come up with some kind of pass for volunteers based on the hours they work, but it might be a while before such an agreement comes through.)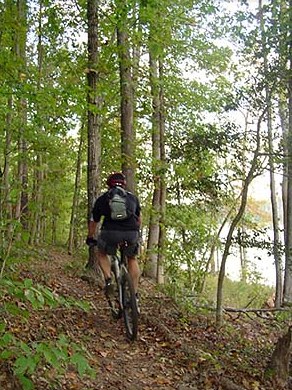 Directions
The trails are at the Beaverdam State Recreation Area at Falls Lake State Park. To get there, go north on NC 50 (Creedmoor Road) in north Raleigh. Continue north past NC 98 and you will cross Falls Lake. The entrance is a mile ahead on the right. Go through the gatehouse and follow the signs.
Driving Directions via Google
Rules of the Trail
1. All mountain bike trails and parking areas close 30 minutes prior to park gates. All trail users must be off the trails and out of the parking area by such time.
2. Trails are to be ridden in one direction as signed unless otherwise marked.
3. Help keep these trails open by riding only on open, marked trails and respecting the natural resources.
4. Riders must wear helmets.
5. Riders shall remain in control of their bikes at all times.
6. Report trail problems to Park Rangers.
7. Hikers are allowed on all trails but should use caution.
8. Misuse, vandalism, excessive use or use during wet weather will cause trail damage and will result in trail closures.
9. Dogs must be kept on leashes at all times.



Night riding is available at this trail on a restricted basis. All night rides must be approved by Park Staff and are generally an organized event coordinated between the park and cycling clubs. Stay tuned to this site for upcoming night rides. You must be out of the park by 8:30 PM for night rides, wear a helmet, and have a light system.

Review Beaver Dam trail
Rules, guidelines, and definitions for our TriangleMTB.com trail reviews

The trail reviews should be reviews based on first hand knowledge. If you have never ridden the trail, then ride it before reviewing it.
Obviously, the ratings and reviews should be just that, not big discussions, stuff for sale, or chit chat.
Ratings should be made relative to the other trails in the greater triangle area of North Carolina (listed on our review page). For example, the "Technical" difficulty rating should be relative to the most technical trail listed on our review page.
There should be no references to other reviews in your review (eg. you should not argue or state disagreement with other reviews).
No profanity or vulgar words or context.
Keep in mind, these reviews are opinions only. One mans pleasure is another mans pain. Take the reviews with a grain of salt.
Please report inappropriate reviews using the link that appears beneath the rating summary of each review.
You must be logged into our forum to submit a trail review.
Beaver Dam trail has been reviewed 61 times by our trianglemtb.com guests.
The West and South loops of this trail combine to provide an old-school feel, kind of like New Light but not quite as challenging. There are no berms, jumps or other manufactured obstacles. Instead you are challenged by the trail layout and terrain. BD has some of the longer descents in this area (at least outside of SanLee's Gravity Park), so a dropper post can actually be useful here. Some of the harder climbs are found near the end of the South loop, so it is a pretty good leg and lung workout just when you might be starting to feel fatigued. BD has decent flow, which would be faster if the trail were better maintained. The Drop Zone has become more challenging with erosion and the lack of maintenance. The trail is also one of the more scenic in the area.

Overall I really like this trail. I agree with the sentiment that maintenance could be better, however.
Went to Beaverdam for the first time this weekend. I found the easier loops to be pretty boring. But the advanced loop and drop zone were fun. You can tell the trail doesn't get a lot of traffic. The trail rides pretty slow sometimes due to the large amount of pine straw and leaves. This would be fixed by more traffic. I assume there isn't a lot of riders due to the fee to get in (which by the way is now $7). I find it weird to charge to ride here. From my understanding it is built and maintained by volunteers. I'd like to see the fee waived. Anyways, there's a decent amount of elevation and fun downhill areas in the advanced section. Nothing over the top crazy hard but more of a constant steady challenge. I enjoyed it. Great work out. More people should come ride here!
No detailed review given.
Good trail to ride. Inner & Outer loop definitely for advanced beginners. West loop is more intermediate and the south loop is definitely intermediate, and for adventurous advanced beginners. They're all singletrack so you're committed once in. Most obstacles are passable for advanced beginners, and consist of mostly logs. Good place to hone skills and build endurance, especially the south loop.

If you've ridden Crabtree and want more of a challenge, this is the place to come. The climbs are longer and steeper than Crabtree, but doable. Drops are much steeper, and the roots are manageable.

Most times I've been here, I've only seen a couple of other riders, so if you're a beginner, you may want to come with a friend.
Rode this trail for the first time today and had a blast. The pine straw is really only thick on the inner, outer, and west loop. Those trails are easier and less interesting to ride anyway. The south loop and drop zone are definitely the best parts and I think are pretty underrated. Drop zone has some quick up and downs and a couple technical descents but ironically doesn't really have any actual drops. The rest of south loop is pretty similar to New Light but it's less technical and the climbs aren't as steep. The descents are longer and more flowy. There's a couple trees across the trails that need to be cut but otherwise I think the complaints about lack of maintenance are a little exaggerated. This isn't Crabtree with machine made hard pack trails. This is a more raw riding experience which means navigating roots, rocks, and imperfect ground. That being said, the large majority of the trail is still smoother that what you will find at New Light. Really the only downside to the trail is there aren't any jumps so don't expect to get any air on it.
I have ridden this trail twice in the last two weeks. It seems to have great potential but needs maintenance severely.

Trail surface is a thick layer of pine straw. Not a great surface, kills speed and energy in a hurry. I would say 5 mikes on pine straw rides like 10 on a better surface. In addition the roots and ruts are so bad that it is not fun on a hardtail.

Who is supposed to maintain this trail? Is it done by club or by the park?
Lots of thick pine straw on the trail, limbs, branches, and trees down. The soft feel of the trail sucked the energy out of each pedal stroke. It has been years since I've ridden here. Is it not getting used like it used to?
I have been riding in NC since the middle of 2013 and used to go to beaver on a weekly basis. Loved it... flow was good, secluded, a nice workout; overall a well rounded trail on the West/South/Dropzone loops and one of my favorites in the triangle.

That being said, I have ridden it 3 total times in the past 6 months. Each time I would show up, my hope was sincere that the state would have done some work out there. I cant believe they actually charge a fee to ride it now... Last weekend, I saw no evidence of any kind of investment other than a few cut logs. At least 4 large windfalls that need to be removed and 75% of the downhill flowy sections are completely gutted, rutted, and beat up, which takes every ounce of fun out of the loops. Its frankly a total bummer that this once-great trail is in the condition it is and I wont be going back anytime soon.
the 8.5 mile loop is great.
I see some 'negative' reviews about it - yes, it has some roots. but i'm not an expert rider and I can do the whole thing without any stopping. this is not an expert trail - but it is 8.5 miles of mountain biking including some hills and roots!! If you have the time to do the distance, great trail to 'learn' and practice on it. I think it flows great, nothing that I remember that is so bad that an average rider needs to push the bike.
Not a fan. It was tough due to all of the roots. I'm a beginner and I do enjoy some roots, but wow! It's like riding on a railroad track of elbows cobbled together by Michael J. Fox.
Show all reviews
"Messengers and mountain bikers share a common chromosome."
-James Bethea