Your source for Mountain Biking in the Triangle

Raleigh-Durham-Chapel Hill
Lake Cammack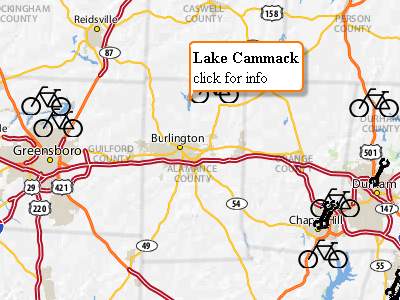 Average ratings submitted by users
Write a review
User submitted reviews
| | |
| --- | --- |
| Category | Average Rating |
| Overall : | 2.7 / 5.0 based on 3 votes |
| Technical : | 2.7 / 5.0 based on 3 votes |
| Climbing : | 2.3 / 5.0 based on 3 votes |
| Freeride : | 1.7 / 5.0 based on 3 votes |
| Scenery/Wildlife : | 3.3 / 5.0 based on 3 votes |
| Flow : | 2.3 / 5.0 based on 3 votes |
Description
Location: Northern Alamance County (Mebane-Burlington)
Miles: 5.5
Skill Level: Intermediate
Contact: Park office (336) 421-3872 (call to see if park is open)
Park Hours and Fees: No Fees to ride, parking is free. The park is closed every Wednesday and Thursday. In December & January, it's only open Tuesdays, Saturdays and Sundays.

Directions: 85N/40 West towards Burlington. Take Exit 143 to Rt 62 North. 62 North to Hwy 70. Take a right on Hwy 70 (east) to 62 North (again). Take a left on Union Ridge Road. Park entrance is clearly marked on the left.



Driving Directions via Yahoo

Rules of the Trail: Helmets are required. Riders must sign in with rangers office prior to riding.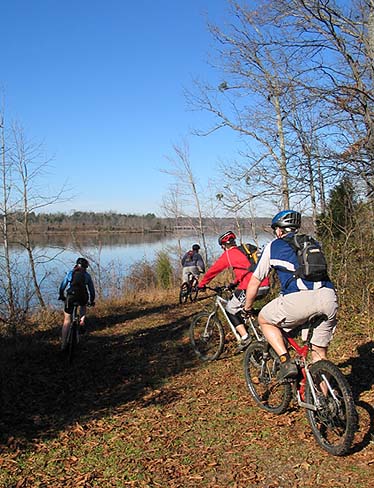 Lake Cammack is an 850-acre reservoir located in the northern section of Alamance County. The park consists of 62 acres with boating, fishing, playgrounds, picnic shelters and walking/biking trails. The trails meanders through thick oak forest along the shores of the lake and back into the hills. Several small climbs, rocks and log stacks make for a good solid ride in a wonderful scenic area. Although it's slightly outside the Triangle, it's definitely worth the trip if your looking for something new to ride.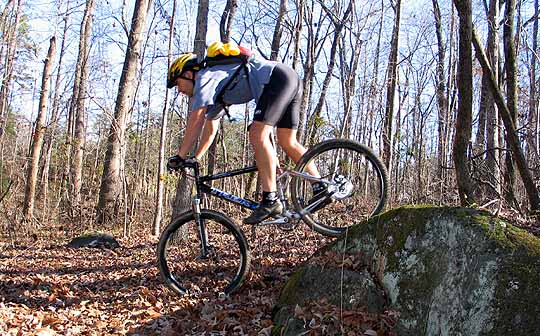 Review trail
Rules, guidelines, and definitions for our TriangleMTB.com trail reviews

The trail reviews should be reviews based on first hand knowledge. If you have never ridden the trail, then ride it before reviewing it.
Obviously, the ratings and reviews should be just that, not big discussions, stuff for sale, or chit chat.
Ratings should be made relative to the other trails in the greater triangle area of North Carolina (listed on our review page). For example, the "Technical" difficulty rating should be relative to the most technical trail listed on our review page.
There should be no references to other reviews in your review (eg. you should not argue or state disagreement with other reviews).
No profanity or vulgar words or context.
Keep in mind, these reviews are opinions only. One mans pleasure is another mans pain. Take the reviews with a grain of salt.
Please report inappropriate reviews using the link that appears beneath the rating summary of each review.
You must be logged into our forum to submit a trail review.
trail has been reviewed 3 times by our trianglemtb.com guests.
You should CONSIDER THIS TRAIL CLOSED TO RIDERS.

We rode the walking trail as no one was walking. The trail had some washed out rut areas and tree limbs strewn around. The mountain bike trail has not been maintained in a few months and we were advised by the station worker (*you must check in first) that for all intent and purposes he considers the mountain bike trail CLOSED.

He mentioned that he may ask the city to revoke the contract that they have with whoever is maintaining it and attempt to maintain if for next season but that is up in the air.

Although it's closer to my home, it's not going to be an option to ride here.

You should CONSIDER THIS TRAIL CLOSED TO RIDERS.
Lake Cammack is closed until further notice. The lake is low so they closed the whole thing. One day I'll get a chance to ride it.
Due to budget cutbacks, the trails are now closed on Wed and Thurs. Didn't find that out until I drove an hour out there from Chapel Hill. What I saw looked nice. Call ahead before you go.