Your source for Mountain Biking in the Triangle

Raleigh-Durham-Chapel Hill
Lake Crabtree County Park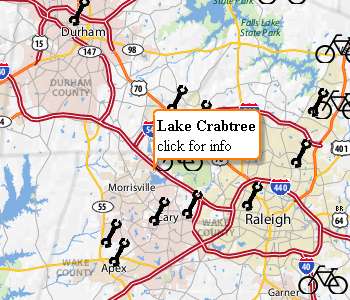 Current Trail Status
Status
When Updated
Who Updated
More Info
Help keep this info accurate by clicking the red bicycle
closed
01/17 5:49 am
drewc
Average ratings submitted by users
Write a review
User submitted reviews
| | |
| --- | --- |
| Category | Average Rating |
| Overall : | 3.8 / 5.0 based on 68 votes |
| Technical : | 1.9 / 5.0 based on 68 votes |
| Climbing : | 1.7 / 5.0 based on 68 votes |
| Freeride : | 2.5 / 5.0 based on 68 votes |
| Scenery/Wildlife : | 3.2 / 5.0 based on 68 votes |
| Flow : | 4.1 / 5.0 based on 57 votes |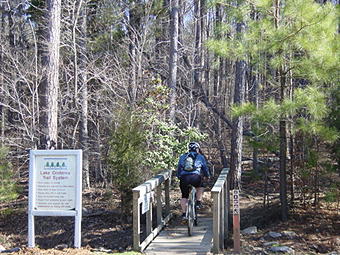 Description
Location: Just south of the RDU airport, off Aviation Parkway.
Miles: about 8
Skill Level: Beginner
Contact: Park office (919)460-3390 (call to see if trails are open)
Map
Park Hours and Fees
Directions
Rules of the Trail
Pump Track

Lake Crabtree County Park singletrack is by far the most popular place for beginner riders in the Triangle. Its central location is also great for relieving weekday stress if you work in RTP. The wooded trails connect to Umstead State Park and Cary's Black Creek Greenway.

Since it's so popular, plan on passing lots of other riders when the weather's good. Please be courteous and cautious with the riders you meet here. It is a great place to learn to ride and don't expect to come here and hammer people out of your way. Stopping to help out beginner riders does a world of good for our sport. There are six loops, some connectors, and the Lake Trail.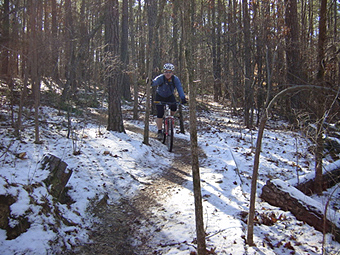 IMPORTANT NOTE: Crabtree trails are closed when they are muddy. Call ahead to see if they are open. Please respect the rules of the trail and don't ride on closed sections.

Directions
Go towards RDU airport on I-40 and exit onto Aviation Parkway going south. Crabtree County Park entrance is on the left. You may park in the first gravel parking lot or at the boat ramp parking area. One of the main trail entrances is across the road from the first gravel parking lot. Another great way to access the trail is via Connector C.
Driving Directions via Google

Park Hours
8:00am to sunset, seven days a week. The park is closed on Thanksgiving Day, Christmas Eve, Christmas Day, and New Year's Day.
All riders must wear a helmet.
Respect the rights of all other trail users and obey park rules and regulations. Bikers must always yield to walkers.
Plan Ahead.
Ride only on officially marked trails.
Keep your bike under control.
Do not disturb or alarm wildlife.
Pets must be kept on a leash at all times.
Leave no trace (don't litter).
Set a good example and report violators/hazards.
Allow time to finish outings before the park closes.
Park management has requested that group rides park at the boat ramp parking area. This leaves ample parking for the users of the open play lot.
Thanks to the wonderful staff of Lake Crabtree Park and volunteers, the first public pump track in the triangle area has been built. The pump track is located near the "old field rows" label on the map near the intersection of Connector A and Loop 1.

A pump track is a series of rollers and berms. Its intended to teach one to learn how to pump their bike over ups and downs on a trail, which when mastered, a person will be able to accelerate their bike with out pedaling. The pump track is not really intended to be jumped, which defeats the purpose of the track.

Rules/Guidelines

The building of the pump track involved uncounted hours of planning, negotiations, and construction labor. Please follow these guidelines to help preserve the pump track in a good condition.

no skidding
no pedaling
no braking
helmets required
lower your seat
body position should be more upright as you approach the roller
push down as you come over the roller
easier on a hard tail but can also be done on a full suspension bike

Note that if feels awkward at first. But once you get use to it, it's a lot of fun and a really good workout. Pedaling and braking destroys the rollers and berms. Especially when you "catch" a roller by pedaling over it.





This trail is not open for night riding except under organized night ride events coordinated with cycling clubs and park staff. Stay tuned to this site for upcoming night rides.

Review Lake Crabtree Park trail
Rules, guidelines, and definitions for our TriangleMTB.com trail reviews

The trail reviews should be reviews based on first hand knowledge. If you have never ridden the trail, then ride it before reviewing it.
Obviously, the ratings and reviews should be just that, not big discussions, stuff for sale, or chit chat.
Ratings should be made relative to the other trails in the greater triangle area of North Carolina (listed on our review page). For example, the "Technical" difficulty rating should be relative to the most technical trail listed on our review page.
There should be no references to other reviews in your review (eg. you should not argue or state disagreement with other reviews).
No profanity or vulgar words or context.
Keep in mind, these reviews are opinions only. One mans pleasure is another mans pain. Take the reviews with a grain of salt.
Please report inappropriate reviews using the link that appears beneath the rating summary of each review.
You must be logged into our forum to submit a trail review.
Lake Crabtree Park trail has been reviewed 68 times by our trianglemtb.com guests.
LCCP is a PERFECT beginner/intermediate trail. It's easy enough that pure beginners won't get too frustrated, but challenging enough to develop intermediate skills. I ride the trails for the flow. I usually chain all trails and connectors together and ride the outer-most loop that connects all trails. I feel like riding it this way clockwise is easier than counter-clockwise. I always tell new riders "Keep making rights unless you see an entrance sign" for counter-clockwise, and of course "Keep making lefts" for clockwise.
Crabtree is a really nice system that's accessible to all skill levels. A couple of quick downsides first- you'll run into plenty of areas where noise from highway traffic cuts into the experience. There are better trails for feeling like you're out in nature. In addition, it gets really crowded on nice days, and there's no real organization on the loops. You'll get riders going in all directions, which usually means some stopping or slowing to pass.

That being said, this system has a series of really nice loops that are flowy and enjoyable to ride. By repeating you can get some good mileage and decent elevation in. For reference, hitting most of the system one time typically yields about 7 miles and just over 450 feet of elevation, which is comparable to Harris Lake Park but features a bit more climbing/ up and down.

The trails themselves are well maintained and easy to ride in a variety of wet and dry conditions. There's a pump track, jump section, and skills areas that allow for practice and a bit of adrenaline, but the trails aren't very technical. Crabtree is an all-around good choice if you want something close and convenient that you don't have to overthink.
Super fast, very flowing especially since they banked and berm-ed a lot of the trail, (KUDOS TORC for that)! Not very technical at all, but still a ton of fun. not only great for beginners and kids to start with on the little pump track and skills section, but also just a fun work-out for advanced riders too, especially early mornings during the week when there may only be a couple joggers out.
Crabtree is nice in that it is convenient to the highway and has well cared for trails. The downside is that the trails are super dumbed down for all skills levels so its really more of a place to get miles in rather than really mountain bike. The pump track and jump lines are cool additions. This trail is best paired with a ride along the lake to the trails just inside Umstead which must not be named or the powers that be will slash your tires. Maybe someday if Crabtree is saved from development the trails in Umstead can be connected to these OFFICIALLY and we can all live in a happy mountain bike nirvana of fast flowy trails paired with more intense and technical trails as well.
One of my favorite trails in the area. Flow, flow, flow! It can get crowded, but when it isn't, it's a blast to ride. We normally park at the boat launch ramp and start with the Lake Trail, couple of right turns and end up at the pump track / jump section. Then off to 2, 3 and 4 and 1 / the Lake Trail backwards to take us out. Really fun ride, nothing too technical.
This is one of my favorite places to ride. It can get crowded at times but if you go early morning or late in the day it's not bad. There are so many features to this place. If you get bored with the trails you can hit the pump track or go to the jumps section. There's something for everyone.
https://www.youtube.com/watch?v=zrqLV6AsxE0
If the airport does take over Crabtree at least it will be open
This was my first visit to this trail system today, having spent the last six months riding exclusively at Carolina North Forest (CNF). CNF has taught me a lot about riding relatively technical trails, climbing, and cornering. Coming to Lake Crabtree today was a completely different experience. Very little technical stuff but incredible flow, smoothness and enjoyment. Plus the skills training areas and the small jumps (dirt jump area was closed) were great fun to play around on. If you want a nice, well maintained trail to ride at a decent and constant speed, visit Lake Crabtree. It will be a destination for me for a long time, especially for fitness rides (easy to push yourself and maintain a good elevated heart and breathing rate). I plan n brining my wife here for her first rides as I'm currently trying to get her into the sport. I fear CNF would scare her away!

To sum it up... Great place to ride. Smooth, flowing, enjoyable single track and two track. Berms are in place for cornering in numerous spots, which just adds to the enjoyment. You can ride for hours by taking all the loops (yes, you'll be re-riding spots) and also taking the trail extension to umstead. Live in the triangle and ride mountain bikes? Give it a shot.
Great place for beginners. It has good flow, simple climbs, and it can get quick very fast. However, it's not singletrack, and during the afternoons in the week and on the weekends you're bound to run into hikers and other riders coming in the opposite direction.

One of the really good things about Crabtree is that it has a number of loops that when done in any number of combinations can easily add up to as many miles as you want to ride.

There's also a skills area for beginners and advances, as well as some berms, a gap jump, and a small rock garden for practice.

From Crabtree you can easily ride into Umstead or vice versa through Old Reedy Creek Road.
Mostly hardpack trail that is really flowy and has some great berms and little tabletops. It isn't too technical or physically demanding but is still a really fun and enjoyable ride.

The biggest problem is that for some reason they allow the trail to go in both directions and I cannot fathom why. The entire point of a singletrack trail system is to have one way traffic. It totally kills the flow when you're riding down through a berm section and have to stop for a rider coming the opposite direction.
Show all reviews
"Our paths to off-road mastery reflect our personalities."
-Hank Barlow