Your source for Mountain Biking in the Triangle

Raleigh-Durham-Chapel Hill
Trail Name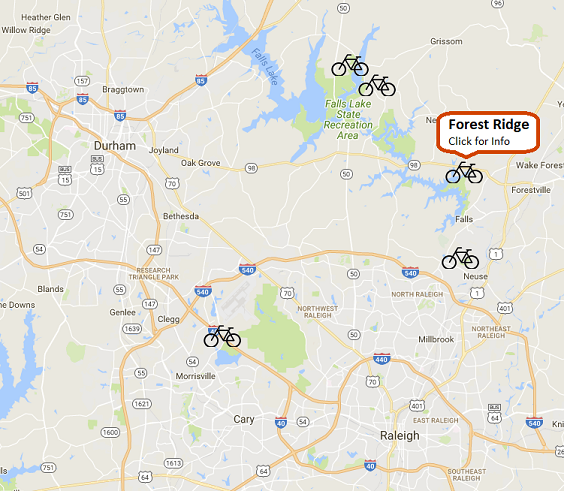 Current Trail Status
Status
When Updated
Who Updated
More Info
Help keep this info accurate by clicking the red bicycle
closed
01/17 7:28 am
ForestRidgeManager
Average ratings submitted by users
Write a review
User submitted reviews
| | |
| --- | --- |
| Category | Average Rating |
| Overall : | 3.4 / 5.0 based on 5 votes |
| Technical : | 1.0 / 5.0 based on 5 votes |
| Climbing : | 1.0 / 5.0 based on 5 votes |
| Freeride : | 0.8 / 5.0 based on 5 votes |
| Scenery/Wildlife : | 4.8 / 5.0 based on 5 votes |
| Flow : | 4.6 / 5.0 based on 5 votes |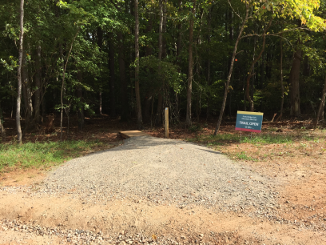 Description
Location: South eastern most portion of Falls Lake, south of Highway 98 and west of Capital Blvd.
Miles: 3
Skill Level: Beginner
Contact: Park Office 919-556-6781
Link: Official Park Page
Map
Directions
Park Hours and Fees
Rules of the Trail

Description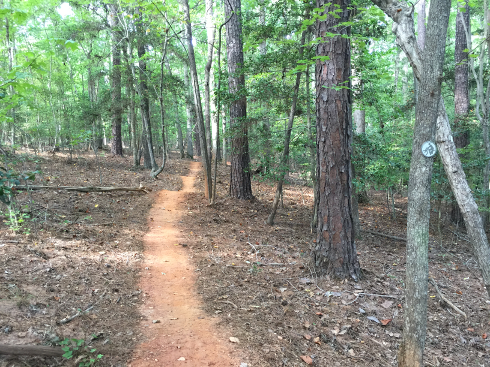 Forest Ridge is an extremely beginner friendly trail. It is fast, flowy, flat, and fun. This is a great trail to bring young kids or to introduce singletrack riding to beginners in a safe and fun way. There is a lot of room for this trail to grow and mileage is expected to increase over time.

This trail is bi-direction and advanced riders will be able to carry significant speeds throughout the trail, so make sure to keep your vision up and be courteous to and cautious of other riders.



Driving Directions via Google

Follow Old Highway 98 until it ends becoming the park entrance. Continue down the parking lot all the way to the back to find the trail entrance just beyond the end of the parking lot. Signage and small wooden bridge will be visible from the parking lot.


Park Hours and Fees
8am to dusk, seven days a week. There is no fee.
All riders must wear a helmet.
Respect the rights of all other trail users and obey park rules and regulations. Bikers must always yield to walkers.
Plan Ahead.
Ride only on officially marked trails.
Keep your bike under control.
Do not disturb or alarm wildlife.
Pets must be kept on a leash at all times.
Leave no trace (don't litter).
Set a good example and report violators/hazards.
Allow time to finish outings before the park closes.


This trail is not open for night riding except under organized night ride events coordinated with cycling clubs and park staff. Stay tuned to this site for upcoming night rides.

Review Forest Ridge trail
Rules, guidelines, and definitions for our TriangleMTB.com trail reviews

The trail reviews should be reviews based on first hand knowledge. If you have never ridden the trail, then ride it before reviewing it.
Obviously, the ratings and reviews should be just that, not big discussions, stuff for sale, or chit chat.
Ratings should be made relative to the other trails in the greater triangle area of North Carolina (listed on our review page). For example, the "Technical" difficulty rating should be relative to the most technical trail listed on our review page.
There should be no references to other reviews in your review (eg. you should not argue or state disagreement with other reviews).
No profanity or vulgar words or context.
Keep in mind, these reviews are opinions only. One mans pleasure is another mans pain. Take the reviews with a grain of salt.
Please report inappropriate reviews using the link that appears beneath the rating summary of each review.
You must be logged into our forum to submit a trail review.
Forest Ridge trail has been reviewed 5 times by our trianglemtb.com guests.
Shorter trail with great scenery of Falls Lake. A good place for beginners to start their mountain biking adventure. A nice amount of off camber riding, with enough climbing to get in a workout. Reminds me a bit of Brumley, just much shorter. Would be great if another 3 miles could be added to get the trail at around 6 miles. That would help bring plenty of riders.
No detailed review given.
Very nice flow trail. Excellent beginner level trail but fast and flow enough to keep the experienced rider grinning. Great property, tons of potential. Rides like Brumley only much shorter and less climbing. The location and scenery will make this a great introduction to MTBing for a lot of locals. I only clocked the loop at around 2 miles. Not sure where the 3-4 miles is unless you reverse or double up.
Two well marked loop trails, just under 4 miles Main loop and extension loop. Smooth packed clay with a lot of flow, hardly any roots but a couple nice rock obstacles. Probably the best single track for beginners I've seen in this area but still fun for advanced riders. Fast and smooth with some nice undulations so you can get some air. Add miles by turning around at the end and doing it the other way.
In general, I think the trails are very fun but short and hopefully this comment will be obsolete soon due to more trails added.

Not too technical, I do like how the trail has lots of wavy undulation up/down and side to side which still provides flowy trail but also provides a lot of pumping opportunities, places to pop into the air over the many undulations, rollers etc. Lots of opportunity to maneuver your bike. A few cool rocky sections. Not completely devoid of roots, which I think is good. The roots will expose themselves fairly quickly on these trails over time.

Not a lot of climbing. Good for beginners, kids and families. Hopefully more elevation change will be added with more mileage.

No freeride.

Nice scenic lake side trails.

Flow is high on this trail. Another machine built flowy trail but more fun based trail input in this type of flowy trail which I think is great.