Your source for Mountain Biking in the Triangle

Raleigh-Durham-Chapel Hill
Harris Lake County Park: Hog Run Trail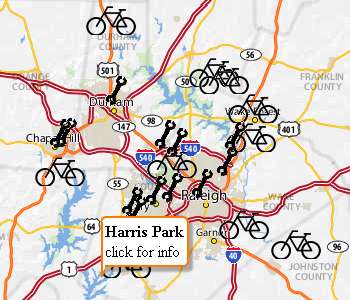 Current Trail Status
Status
When Updated
Who Updated
More Info
Help keep this info accurate by clicking the red bicycle
closed
01/17 5:50 am
wolfpackash
Average ratings submitted by users
Write a review
User submitted reviews
| | |
| --- | --- |
| Category | Average Rating |
| Overall : | 3.4 / 5.0 based on 46 votes |
| Technical : | 2.2 / 5.0 based on 46 votes |
| Climbing : | 1.9 / 5.0 based on 46 votes |
| Freeride : | 1.9 / 5.0 based on 46 votes |
| Scenery/Wildlife : | 3.6 / 5.0 based on 46 votes |
| Flow : | 3.6 / 5.0 based on 38 votes |
Description
Location: Southwestern Wake County
Miles: 8
Skill Level: beginner to intermediate
Contact: Park office (919) 387-4342 (call to see if trail is open)

Map
Park Hours and Fees
Directions
Rules of the Trail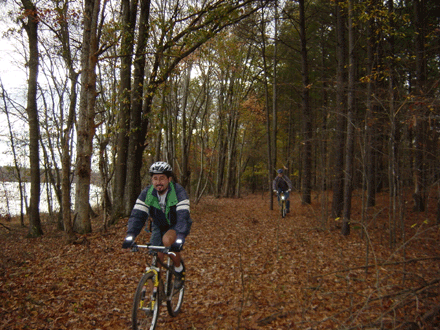 Like Lake Crabtree Park, Harris Lake's mountain bike trails are close to a lake, made up of several loops that connect to a main trail, and are managed by Wake County Parks. The breeze coming across the water can be quite refreshing on a hot summer day! The major loops here are signed as "beginner", "intermediate" and "advanced", and can be enjoyed by all skill levels. A few optional "double black diamond" loops have been added near the advanced section. This trail has something for everyone, from the "just got my first off-road bike" beginner to the more seasoned rider, and all obstacles have optional ride-arounds so that beginners and veterans can enjoy the trails together. In short, this is just a good set of single-track trails. Currently there is approximately 8 miles of bicycling trails.

The park is located in a flatter part of Wake County so there aren't as many long or steep hills as some other trails, but rest assured, the available terrain has been used wisely. There are several log crossings, a couple of whoopdee-doo sections and a few small bridges on the trail.

Harris Lake County Park also has full amenities such as restrooms, picnic shelters, play areas, Frisbee golf, fishing locations and canoe rentals.

Check the Events calendar for upcoming races and trail workdays at Harris Lake County Park.

Park Hours and Fees
8:00 am to sunset, seven days a week. Hours are posted at the gate, and on the phone answering system. The park is closed on Thanksgiving Day, Christmas Eve, Christmas Day, and New Year's Day.
Access to the park is free.

Directions
From Raleigh: Take 440 to US 1 South. Take US 1 12 miles from beltline to exit 89. Take a left and go about 2 miles to the park entrance. Go to the back of the park and turn left into the parking area. The trailhead is labeled "Hog Run Trail".
From Durham/Ch. Hill: Take 751 past New Hill and over US 1 (Note: road changes name a few times, just keep on keepin' on). After
crossing over US 1 go about 2 miles to the park entrance. Go to the back of the park and turn left into the parking area. The trailhead
is labeled "Hog Run Trail".

Driving Directions via Google
Trails are closed when wet. Call the park office to check status.
Gates are locked at posted closing time, be off the trail ½ hour before park closing.
Wear a helmet
Ride on designated biking trails only.
Be courteous to other users.
Don't litter.


This trail is not open for night riding except under organized night ride events coordinated with cycling clubs and park staff. Stay tuned to this site for upcoming night rides.
Review Harris Park trail
Rules, guidelines, and definitions for our TriangleMTB.com trail reviews

The trail reviews should be reviews based on first hand knowledge. If you have never ridden the trail, then ride it before reviewing it.
Obviously, the ratings and reviews should be just that, not big discussions, stuff for sale, or chit chat.
Ratings should be made relative to the other trails in the greater triangle area of North Carolina (listed on our review page). For example, the "Technical" difficulty rating should be relative to the most technical trail listed on our review page.
There should be no references to other reviews in your review (eg. you should not argue or state disagreement with other reviews).
No profanity or vulgar words or context.
Keep in mind, these reviews are opinions only. One mans pleasure is another mans pain. Take the reviews with a grain of salt.
Please report inappropriate reviews using the link that appears beneath the rating summary of each review.
You must be logged into our forum to submit a trail review.
Harris Park trail has been reviewed 46 times by our trianglemtb.com guests.
Harris was my inaugural trail in the Triangle, and is still a go-to for quick rides. It's a lot of flow and scenic riding through woods and on loops that are well maintained. The climbs are relatively short and don't involve anything terrible. The South Section, in particular, is very fast.

There are three areas, with a beginner trail offering a decent warm-up, and a root-heavy intermediate trail. Crossing the road that cuts through the park takes you to the advanced side, which is doable for anyone with riding experience. The hardest bits are a couple of deep troughs in the West and North sections, and there are a few skills sections with skinnies, a jump, etc. that bump the tech score up a hair.

Don't miss the interior loop- you'll see the entrance on the double track that cuts through the middle of the advanced sections, or you can catch it as you leave the West and come to the South section. The interior is basically a closed figure-8 that offers great flow on the back half.

The whole thing is about 7 miles of riding, so you'll need to repeat if you want a lengthier ride or tougher workout. The total elevation gain for circuit is usually something around 400 ft.
Really enjoyed this trail.
It's not technical, not a lot of elevation changes, but it is so well groomed.
You can go real real fast on these loops.
I had pretty low expectations coming here. I've heard it is flat and not very technical. And while that is true, this park offers something that is pretty rare around here. A fast, flowy, racetrack type trail experience. At first I was bored (especially in the beginner and somewhat so in the intermediate loops) but once I made my way to the advanced section it was a great time. It will be as fun as you are willing to go fast. I tried to really crank it and work on my high speed cornering (great berms!) and it was a blast. I guess it could be compared to Crabtree in a way, but I found Harris much more fun. Crabtree suffers from being overcrowded and 2 way traffic and hikers. At Harris I felt comfortable going as fast as I could and really sending it. There are a couple "double black diamond" spots but there weren't overly crazy. All in all, I am looking forward to going back sometime when I just want to go fast. If you are looking for something more technical, go a few more miles down the road to San Lee.

Oh I almost forgot. The skills park is super fun! Great features that really challenged me to practice!
I usually ride 286 or Crabtree but wanted a change or scenery so I decided to give Hog's Run a try. It's super easy. It's a perfect trail if you're brand new to mountain biking. Beginner and intermediate trails are (IMO) all beginner. It could even be argued that the Advanced could be 'Beginner', but it would probably be justifiable as intermediate.
The best part about these trails is the flow. You can get some pretty good speed in some spots and they last for a pretty good interval. You can really practice your weight distribution on the berms and small turns. The worst part about these trails are the switchbacks. Some spots feel like your just going around in circles not covering much ground. The skills area is pretty fun but I wish it were a little bigger.
I live 15 minutes from Harris so I ride here quite frequently. Changes were made over the past year and they have seriously improved things, IMO. Much better flow and a lot less rooty. The West was left pretty much intact I believe, and that's still one of my favorite trails.
I used to drive 30 minutes to get to Crabtree but these days I spend all my time at Harris. It's a lot of fun. The beginner/intermediate trails are a good warmup, although those trails aren't in as good a condition as the advanced section. I believe I heard that they will be doing work to the Intermediate trails so that could change. My preferred loop in the advanced has been East-->Fire Road-->New Connector (across from the inner loop, a super fun little trail)-->West-->North-->Fire Road-->New Connector (Yes I like it so much I hit it twice!)-->South. Really fun loop, combined with the intermediate/beginner stuff it's 11+ miles.
I feel very lucky to live so close to this trail. I ride it at least one or two times a month. The trails are well maintained and very flowy. There are so many fun sections, especially in the advanced area. You don't have to climb much to get great flowy roller coaster type rides. If you're looking for jumps and crazy riding features this isn't the place for you. If you want to ride where there's beautiful scenery while cruising at 8-10mph this is the place. There are some rooty sections but overall it's not bad.
https://www.youtube.com/watch?v=HGQuOWmlRTA
Once again Harris Lake trails are closed. All other trails are open but not Harris Lake. So frustrating. Seems like this trail is closed more than open unless there is an event. Then it is open rain or shine. So inconsistent.
From Durham, its a pleasant and easy ride out there via the American Tobacco Trail and the trails are flowy and fun after a long spin, but one warning, the water from the water fountain is terrible and murky. We both felt nauseaus after drinking it. They have a vending machine that sells water so bring one dollar bills or fill up at the convenience store on US 1. The park staff is present and helpful in terms of navigating the trails if its your first time out.
Harris Lake is fun. It's not particularly rigorous, but definitely one of those places where what you put in is what you get out. I love it to get a hard fast spin. Do the whole trail twice! Ideal for single speeders...nothing that is not rideable.
It's not a bad trail but not a very fun one either. Imagine a Lake Crabtree but with more elevation change, more roots, and basically no flow. The advanced section has a couple ok jumps and berms along with a small black diamond area with some steep up and downs. There's a skills area in the beginning that's pretty fun. This trail is really more for fitness than fun/tech.

If you're from the triangle area then you can have more fun at Crabtree. Otherwise, if you're going to do this drive you might as well go the extra 10 miles to San Lee which is infinitely better.
Show all reviews