Your source for Mountain Biking in the Triangle

Raleigh-Durham-Chapel Hill
Lake Johnson Nature Park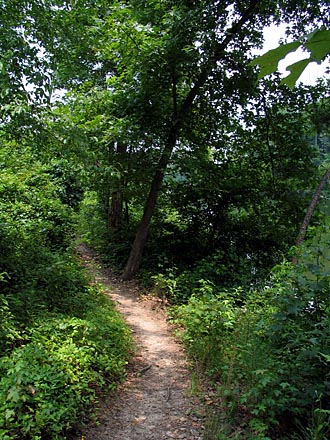 Description
Location: 4600 Avent Ferry Rd, Raleigh NC
Miles: 4.9
Skill Level: Beginner
Contact: Lake Johnson, Raleigh Parks and Rec (919) 233-2121
Map
Park Hours and Fees
Directions
Rules of the Trail
The trail is short - the entire loop around the lake is about 5 miles (1.5 miles on the greenway, 0.5 miles of dirt road and 3 miles of single-track). We recommend to ride the loop clockwise from the lake Johnson parking area, (near the boathouse), start with a warm-up on the greenway, after passing the dam and the bridge look for a trail on the right (about 1.5 miles from the parking lot).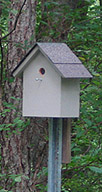 The trail closely follows the lake with lots of ups and downs, and many exposed roots. Some climbs are very steep - the steepest is the climb to the gazebo overlook followed by a very steep downhill.There is one rocky creek crossing with about 2 ft. drop to the creek (I usually dismount here). After about 2 miles, the trail meets with greenway again. From here you can turn right across the bridge to complete the short loop (about 3.5 miles). For the full 5 mile loop, turn left towards the other parking lot, cross the Avent Ferry road and pick up the singletrack on the other side. The trail follows the lake for another mile, with more ups and downs and several muddy spots. The trail ends at a wooden bridge, turn right after the bridge onto a dirt road to complete the loop. There are many joggers and hikers using this trail, so plan to pass a lot of people, especially on the greenway.
Lake Johnson Park is composed of a 150+ acre lake and 300+ acres of land surrounding the lake. The park offers non-motorized boating, greenway trails, fishing, picnic shelters, and a variety of classes. The Waterfront Program Center has an indoor conference room a deck and a covered verandah available for rent.
Park Hours and Fees: No fee. Park hours are posted and change according to season.

Directions: From I-440 take Western Blvd. into Raleigh. Right on Avent Ferry Rd. Lake Johnson entrance is 3 miles on the left.
Driving Directions via Yahoo
Obey the signs posted on all greenways showing the rules and regulations.
Consumption of alcoholic beverages is not allowed.
It is unlawful to possess firearms or other weapons.
Motorized vehicles are not permitted on the greenways or in non-designated areas.
Building fires is allowed only in grills.
Pets must be on a leash.
The owner must remove all waste left by pets.
It is unlawful to kill, trap, or molest animals or birds.
Swimming in lakes or streams is not permitted.
Horses are prohibited on trails unless signed for equestrian use.
All trail users under the age of 16 are required to wear a safety helmet when using a bike, skates, scooters or any other non-motorized vehicle.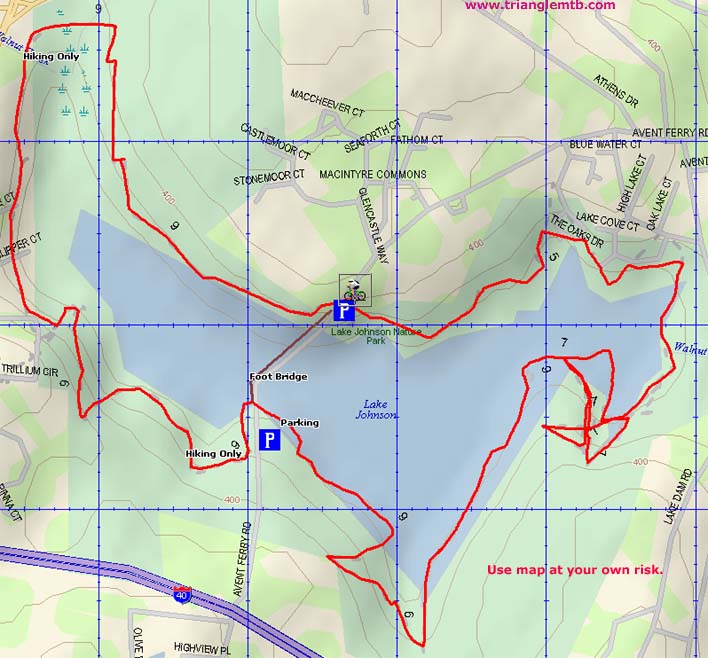 You don't actually ride in the water. The map software is a little off.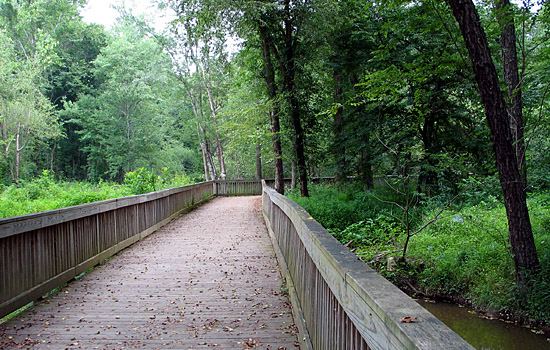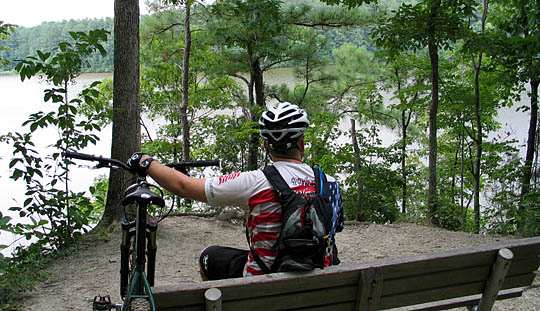 A few places to relax on the trail.