Your source for Mountain Biking in the Triangle

Raleigh-Durham-Chapel Hill
Legend Park in Clayton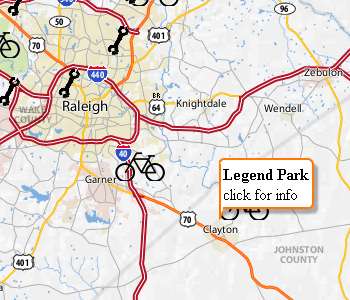 Current Trail Status
Status
When Updated
Who Updated
More Info
Help keep this info accurate by clicking the red bicycle
Lower Trails
closed
05/20 9:55 am
mtbmedix
Upper Trails
closed
05/20 9:55 am
mtbmedix
Average ratings submitted by users
Write a review
User submitted reviews
| | |
| --- | --- |
| Category | Average Rating |
| Overall : | 3.8 / 5.0 based on 25 votes |
| Technical : | 3.6 / 5.0 based on 25 votes |
| Climbing : | 3.2 / 5.0 based on 25 votes |
| Freeride : | 4.2 / 5.0 based on 25 votes |
| Scenery/Wildlife : | 2.9 / 5.0 based on 25 votes |
| Flow : | 2.6 / 5.0 based on 18 votes |
Description
Location: Clayton
Miles: ~ 6
Skill Level: Beginner to advanced. A little bit of everything here. Freeriders take note. Hucksville is located here. A skills area has been set up near the parking lot. It has several skinnies, drops and jumps of varying difficulty.

Map
Park Hours and Fees
Directions
Rules of the trail
The trails are inside the Town's Legend Park. The property is bordered by a creek and a jeep trail. The trail starts at the corner of a ballfield and takes you along the creek. Fun stuff along the way includes rock gardens, boulders, jumps, and bridges. The trails are multi-directional and offer lots of choices for your route. This trail has a little bit of everything. The trail by the creek is absolutely beautiful.
Park Hours and Fees
No fees. The park is owned by the Town of Clayton. Park is open from 8 AM to 11 PM.
Directions
From Raleigh, take I-440 to I-40(South or East) towards Benson, Wilmington. Take US 70 east towards Goldsboro, Atlantic Beach. Go into Clayton and go to second stop light. Turn left onto Robertson Street (McDonalds is on corner) and take Robertson until it deadends. Turn left onto Stallings Street, and take second right onto City Road. Legend Park will be about 1/4 mile on your right. Look for a kiosk in parking lot, it will tell you how to get on the trails.
Driving Directions via Yahoo
Rules of the Trail
The trail rules are posted at the trailhead and, yes, you can bring your well-mannered dog with you.






Night riding is allowed on this trail. Please be off the trail when the park closes at 11 PM each night.
Trail Descriptions
THE "SKILLS ZONE"
Beginners and expert riders alike are trying their luck at the new skills area located in the parking lot behind the kiosk. Phase I of this area includes 2 skinnies, one at 8" and one at 12" wide . While both are of a reasonable height, each one possesses it's own challenges. Also found in this area is a 3 prong jump/drop stunt ranging from 1.5' to 3.5' high. This solidly built stunt will inspire confidence and have you flying in no time. Phase II includes a zig zag skinny, and three jumps to hone your skills on. (see pics below)

Main Trail starts at the kiosk, located at the lower half of the parking lot. This trail will
give riders access to every trail and blast you through the "ravine" and take
you by "Hucksville".


Hucksville is home to some of the biggest and coolest hucks/drop around. We have multiple
drops/jumps for the extreme riders to try. There is a gap jump, gulley drop, the
original drop or huck(your choice) and the Fatire drop. To total, there are five options
for defying gravity. Good luck!


Allen's Trail is the first loop off of the Main Trail. This is a "difficult" rated trail with lots
of short ups and downs and serves as a great warm-up for the advanced rider.
The "Clayton Shore" is at the outer most bend and gives daring riders over
150' of elevated stunts to try their luck on.


Short Loop/Long Loop are the original trails in this system. Low land riding along the
Sims Creek, several boardwalk section and a couple of climbs
to keep you honest. Trail features technical rock garden, multiple
log stacks and various rock obstacles for play spots on these loops.
All of the above mentioned trails and considered to be the "lower trails".
Trail rating is "easy" to "moderate".

Harvey's Pond is the first trail in the group of trails, know as the "upper trails". The loop rides
along Harvey's Pond and serves as a climb reliever to the "ravine".
Trail rating is "moderate".

Little-Big Horn is located at the southern most end of the Main Trail. Trail features lots of
rolling single track with log stack and a bare-back log ride.
Trail rating is "moderate".


Larry's Loop is located at the outer most point of Little-Big Horn and is also at he highest
point of all the trails. This is the other "difficult" rated trail and features off-
camber sections, narrow bridges and hard climbs to toughen the challenge.


Magnolias Run is the longest of all the upper trails and like Little-Big Horn was built to
be ridden from the top down. Trail features bench-cut contour riding, several fast
downhill sections and a double switchback climb. Trail rating is "moderate".
No trail has a mandatory direction, riders can ride any trail in any direction.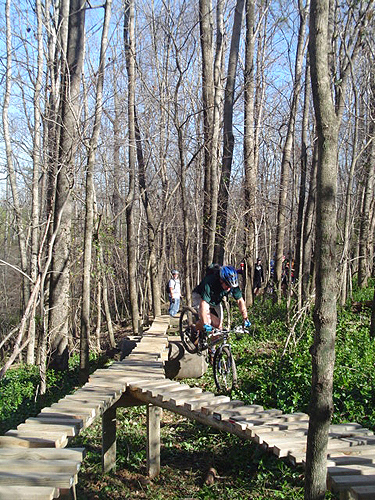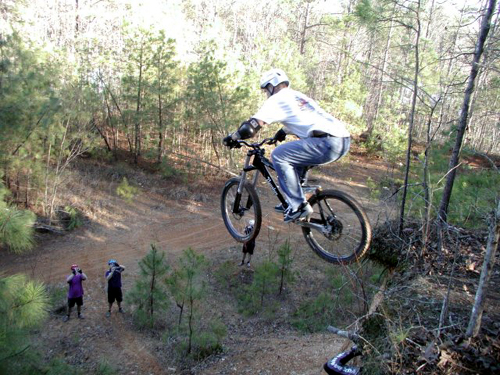 (L) 40 foot skinny located at Legend Park Allens Trail.
(R) Multiple locations for serious hucks. It's known as Hucksville. Rider is Matt S.
| | |
| --- | --- |
| Photo by Larry Bailey | |
Review Legend Park trail
Rules, guidelines, and definitions for our TriangleMTB.com trail reviews

The trail reviews should be reviews based on first hand knowledge. If you have never ridden the trail, then ride it before reviewing it.
Obviously, the ratings and reviews should be just that, not big discussions, stuff for sale, or chit chat.
Ratings should be made relative to the other trails in the greater triangle area of North Carolina (listed on our review page). For example, the "Technical" difficulty rating should be relative to the most technical trail listed on our review page.
There should be no references to other reviews in your review (eg. you should not argue or state disagreement with other reviews).
No profanity or vulgar words or context.
Keep in mind, these reviews are opinions only. One mans pleasure is another mans pain. Take the reviews with a grain of salt.
Please report inappropriate reviews using the link that appears beneath the rating summary of each review.
You must be logged into our forum to submit a trail review.
Legend Park trail has been reviewed 25 times by our trianglemtb.com guests.
I just got back from riding at Legend Park. I didn't know what I was getting into due to the last rating was from 2/13/2012. It was about a 30 minute drive for me. I thought it was a lot of fun!! There were some great features that were ride-able, but a lot that could use some repairs. The skills area would be more fun on a full suspension bike and with some repairs on the ride-ons, but it was fun! The trails were rooty, hilly, but fun! Every log-over had an alternative route. A lot of the ride-ons were well built and stable but are risky. Overall, I would ride it again in warmer, dryer weather.

I am planning on bringing some tools and hardware in the spring to make it better and have more flowing features.

Kyle
I went to legend a few days ago and to my surprise there was some new trail construction going on. People have been building what looks to be a wall ride and a new jump line near hucksville that if finished would be really fun. Besides this, the trail seems to be in pretty good shape with no major problems or faults within the trail. This is the best trail iv'e found near me and it keeps me coming back for more. The trail really has everything to offer form great climbs to fast descents which is one of the reasons I rated it so highly. Also, I gave the trail 5 stars for freeride due to hucksville and all of the skinnies that have been built over the years. For me, huckville is what really makes the trail so great. The biggest drop there is probably around 15 feet tall and is pretty big even for the veteran rider.
Tried this trail for a change and found myself wishing I had gone to San Lee, Umstead, or Beaverdam. Posting the physical adress as 505 City rd, would help for those of us that use GPS.
I have recently tried out the trails at legend park. during my first visit, It was difficult to determine where I was at on the trail but after a couple of trips, it was no problem.The trails are neat and clean and has a little of everything for every rider. I first tried out both upper and lower trails. both are really fun and enjoyable. I feel that the trails could be marked a little better to help you know where you are (especially for first time visitors). Also, the training area (skills zone near parking lot)needs some repair. Overall, these are fun trails. I especially like the short loop/long loop. These trails have a nice balance. I continue to go to legend park and I have a blast each and every time. I highly recommend it.
I rode this trail yesterday and found it better than expected given the negative press about conditions. The flow could be a bit better and there are a few places where some branches could be trimmed, but it's not all that bad. I really enjoyed the Upper trails portion, especially Larry's loop; plenty of opportunity to gain speed on the downhills and carry it through the next uphill. The most fun I've had so far in my limited time in the Triangle area; more fun than Crabtree in some respects. I haven't tried the stunts on Allen's Trail but will give it a shot next time.
Legend park is a great place for a mountain bike trail system. The existing trails however are not in great shape and are in desperate need of maintenance. The terrain and elevation changes throughout this park are ideal for a great flowing course, but the existing trails were laid out in such a way as to not flow very well. Couple this with extreme lack of maintenance and some portions are not rideable. This park has the potential to be the best in the area. The town of Clayton should invest in these trails or TMB or TORC should get involved with new trail construction and or maintenance. Why should Johnston county residents have to drive 20 miles to ride decent trails in another county?
I rode this trail for the first time yesterday morning. I was excited to see the skills section, however on my first approach up the ramp toward the three drops, I was flipped off my bike as the first two boards broke in half. Not easily deterred, I once again attacked the ramp. Once on the top I realized that the condition of the entire fixture was less than safe. After a quick drop, I moved on to the trails.

On the positive, I think these trails are the most challenging in the triangle area (at least that I've been to). The trails are covered with ruts, roots, and rock gardens. There are technical downhills, ample switch-backs, and several jumps and log rolls to play with. However, there are also several pretty technical up hills that forced me to walk my bike a few times.

On the negative, THIS IS DEFINITELY NOT A BEGINNER COURSE. While that doesn't affect me, I would not be able to take my girlfriend on this trail. There seems to many fun loops at Legend, but the markings are poor (or, non existent). I found myself looping in circles several times before I was able to find my way off that trail and on to another.

Suggestions: I would submit that better trail markings and more maps spread out around the trail would be nice (sort of like Crabtree). Also, PLEASE FIX THE DAMAGED FIXTURES
This was my first time back to Legend in ~3 years. The positive is that they've done well packing so much trail in a small footprint and I felt there was more trail than before. All the lumber trails really allow expansion of trail into otherwise unridable wetland and floodplain areas. Lots of heavy duty stunts too, if you're into that sorta thing. Some steep (but short) drops and some steep (but short) climbs. Switchbacks abound. The nature of the terrain (Neuse drainage, fall-line geology) make this a unique riding location. Go from coastal-plain wetlands to rocky piedmont stream bluffs in the same place!

The negative (for me, at least) was that I felt like I was either going the wrong direction the whole time or trespassing (so close to houses, lots of confusing "no trespassing" signs along what should be a signed trail). I felt that there was much more flow 3 years ago, even though there were fewer trails. Now it kinda feels like I was stringing together short sections of unmarked trail to get to a big stunt. The mapping was terrible to non-existent. I kept getting trapped in "do loops" doing the same loop multiple times before getting out of it--in large part (beyond the poor maps) because there are SO MANY trail cut-off's, alternate trails to stunts, and multiple entrances to the same trail.
It seems to me this place would be great with some improved signage/trail marking. I'm no trail building expert, but I think some energy put into better connectivity of the existing trails, reduction of some of the cuts, and longer sections of trail that run along contours instead of across would really improve the overall experience (and should help with the erosion too).
I hate to be negative about the few trails we have in this area, but I feel this is relevant if someone new to the area (and/or new to the sport) chooses to ride out here. Agreed, I need to spend some time getting familiar with the place, but I am neither new to the area or the sport and even to me the lack of flow and frustration of not having any idea where you are or which of the 4 unmapped crossroads to take to stay on your current trail heavily detract from an otherwise fun trail.
This was an awesome trail. I'm new to the area and tried most of the trails listed on this site and I have to say this so far my favorite. It's one of those trails that you want to hit over and over again to get better at it. I'm from Florida and it's just awesome to ride on these trails. It's a bit getting use to riding up hills but again, it's the challenge that brings us out to play...
I have not really tried any of the other local trails already knowing the reputation that legend has for having the biggest "hucks" in the area.

With that said Legend is a fun place to ride, theres a good 6 miles of trails of which imo only 4 of those miles have anything worth mentioning. Theres some decent sized hills to go up and down so if you have a heavy bike like me you will find yourself walking part of the way. The lower trails are great for beginners to start on and its where I learned the basics.

The flow is OK on the upper trails but not so good on the lower. There are many jumps and obstacles on the upper trails so you will find yourself skipping the lower alltogether unless you just want a relaxing bike ride.

Unfortunetly storms have knocked out some of the skinnies and the park service just hasnt replaced them..

Hucksville is just plain awesome if you have a full suspension and its nearer to actual mountain biking than anything in the area. Best advice is dont slow down for anything, make sure you are prepared for the jump(behind the seat) and you pick a good take off spot. The hucks are legends are partially eroding so they have the potential to be dangerous(ask me, I landed on my friggin head).

Theres also the "Ravine" which looks pretty intimidating to weekend warriors like myself but its really alot of fun, just be sure you can handle your bike at fast speeds and DO NOT use your breaks going down it or you will end up a squished critter at the bottom.

Upper trails have decent flow with alot of ups and downs and feels like your are at a skate park at times, nothing like decending down a large hill and flying over a ramp/tree for a good 5 foot airjump.

Theres several creeks running through the lower trails and even a pond, its nice to look at but other than that theres not much to see unless you like the woods and native NC wildlife.

Best of all is the fact that this park is almost always empty on the weekdays but you will see some other bikers out there on the weekends.
As someone from clayton with an expensive downhill bike this place is a jewel and I am happy to call it home turf.

Its worth a look especially if you like jumping hills.
Show all reviews