Your source for Mountain Biking in the Triangle

Raleigh-Durham-Chapel Hill
Umstead Park
Description
Location: Raleigh, near the airport
Miles: 11.5 miles
Skill Level: Beginner
Contact: Park office (919) 571-4170
Map
Park Hours and Fees
Directions
Rules of the Trail
The ultimate beginners ride, Umstead is a great place to check out with the whole family. If you're looking for an easy ride, or you want to take the family out mountain biking, Umstead is the place. There are several miles of gravel roads in this State Park, winding through dense woods and over a few creeks. It's easy to forget that you're right smack in the middle of the Triangle region, except for the occasional 737 rushing overhead. (The airport is right next door.)

The gravel roads in Umstead are used by bikers, hikers and equestrians. They connect to the trails in Crabtree Park (singletrack and a paved greenway) at the Old Reedy Creek Road entrance. Mountain bikers are not allowed on the hiking trails. The Umstead Coalition is a very active organization dedicated to the appreciation and preservation of W.B. Umstead state park.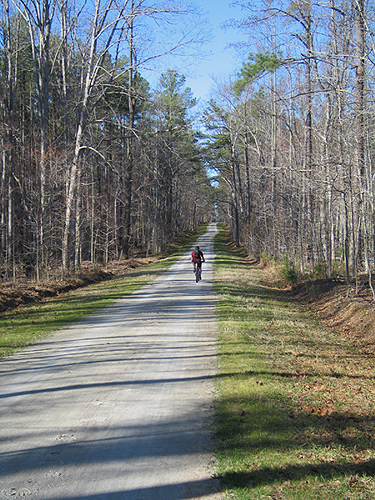 Park Hours and Fees
November-February 8am-6pm
March and October 8am-7pm
April, May, September 8am-8pm
June-August 8am-9pm
The park is closed Christmas Day.

Directions
Crabtree Creek Section: Off US 70 about six miles northwest of Raleigh's I-440.
Driving Directions to the Crabtree Creek Section via Yahoo

Reedy Creek Section: About 0.5 miles north of I-40 at Exit 287 (Harrison Ave.)
Driving Directions to the Reedy Creek Section via Yahoo

Rules of the Trail
1. Mountain bikers use the same trails as the equestrians. Bikes are prohibited on hiking trails.
2. The removal of any plant, animal, artifact or mineral is prohibited.
3. Do not litter; firearms and fireworks are prohibited.
4. The possession or consumption of alcoholic beverages is prohibited.
5. Pets must be on a leash no longer than six feet.
6. Do not throw aluminum. cans in trash receptacles-they must be packed home or placed in proper recycling bins.
A Bicycle Trip through Umstead Park by Scott Chilcote. This is a great photo essay of the Umstead trails.