Your source for Mountain Biking in the Triangle

Raleigh-Durham-Chapel Hill
286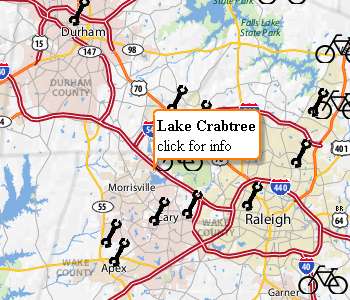 Average ratings submitted by users
Write a review
User submitted reviews
| | |
| --- | --- |
| Category | Average Rating |
| Overall : | 3.0 / 5.0 based on 1 votes |
| Technical : | 5.0 / 5.0 based on 1 votes |
| Climbing : | 3.0 / 5.0 based on 1 votes |
| Freeride : | 2.0 / 5.0 based on 1 votes |
| Scenery/Wildlife : | 4.0 / 5.0 based on 1 votes |
| Flow : | 1.0 / 5.0 based on 1 votes |
Description
Location: Just north of Lake Crabtree along Old Reedy Creek Road
Miles: 7
Skill Level: Intermediate/Advanced

Map
Directions
Park Hours and Fees
Rules of the Trail

The famed bandit trail now made legal (albeit only part of the original). Wake County has leased the 286 tract from RDAA. The legal trail consists of the former 286 east section. 286 west will still be illegal to ride. Wake county has plans to rebuild and expand trails on this section of land.
Old Reedy Creek parking lot driving directions via Google
All riders must wear a helmet.
Respect the rights of all other trail users and obey park rules and regulations. Bikers must always yield to walkers.
Plan Ahead.
Ride only on officially marked trails.
Keep your bike under control.
Do not disturb or alarm wildlife.
Pets must be kept on a leash at all times.
Leave no trace (don't litter).
Set a good example and report violators/hazards.
Allow time to finish outings before the park closes.
Park management has requested that group rides park at the boat ramp parking area. This leaves ample parking for the users of the open play lot.


This trail is not open for night riding except under organized night ride events coordinated with cycling clubs and park staff. Stay tuned to this site for upcoming night rides.

Review 286 trail
Rules, guidelines, and definitions for our TriangleMTB.com trail reviews

The trail reviews should be reviews based on first hand knowledge. If you have never ridden the trail, then ride it before reviewing it.
Obviously, the ratings and reviews should be just that, not big discussions, stuff for sale, or chit chat.
Ratings should be made relative to the other trails in the greater triangle area of North Carolina (listed on our review page). For example, the "Technical" difficulty rating should be relative to the most technical trail listed on our review page.
There should be no references to other reviews in your review (eg. you should not argue or state disagreement with other reviews).
No profanity or vulgar words or context.
Keep in mind, these reviews are opinions only. One mans pleasure is another mans pain. Take the reviews with a grain of salt.
Please report inappropriate reviews using the link that appears beneath the rating summary of each review.
You must be logged into our forum to submit a trail review.
286 trail has been reviewed 1 times by our trianglemtb.com guests.
| | |
| --- | --- |
| | These 2 loops are ass kickers. Don't think that because you handle crabtree you will be able to do these no sweat. The climbs are rooty and rocky and the flow is almost non-existent. I like the challenge this trail throws at you but man it will make you work. Do NOT bring beginners here or they'll be walking most of the time! |