Your source for Mountain Biking in the Triangle

Raleigh-Durham-Chapel Hill
Trail Name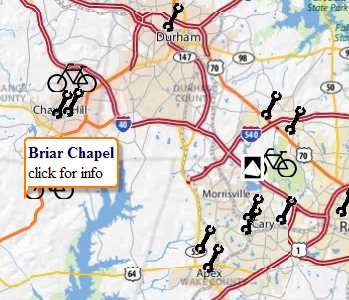 Current Trail Status
Status
When Updated
Who Updated
More Info
Help keep this info accurate by clicking the red bicycle
closed
09/24 7:42 pm
AlexG
Average ratings submitted by users
Write a review
User submitted reviews
| | |
| --- | --- |
| Category | Average Rating |
| Overall : | 3.5 / 5.0 based on 35 votes |
| Technical : | 3.2 / 5.0 based on 35 votes |
| Climbing : | 1.9 / 5.0 based on 35 votes |
| Freeride : | 1.5 / 5.0 based on 35 votes |
| Scenery/Wildlife : | 2.5 / 5.0 based on 35 votes |
| Flow : | 3.0 / 5.0 based on 35 votes |
Description
Location: Just off 15-501 half way between Chapel Hill and Pittsboro, west of Raleigh about 15 miles
Miles: 8-9
Skill Level: Intermediate (some advanced)

Map
Directions
Park Hours and Fees
Rules of the Trail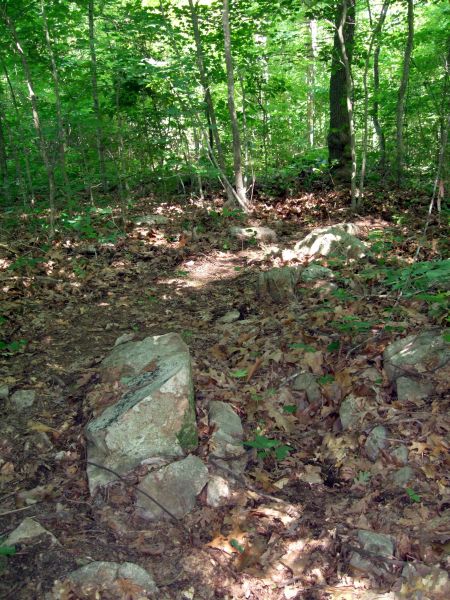 The Briar Chapel trails are still under construction but there is a decent loop at this time. The trails are mostly novice skill level without much climbing, but there are multiple sections of intermediate skill level and several rock gardens which will be difficult for just about anyone if the toughest line is chosen.
We need more photos of Briar Chapel. If you have a picture you'd like to let us use, please contact admin@trianglemtb.com!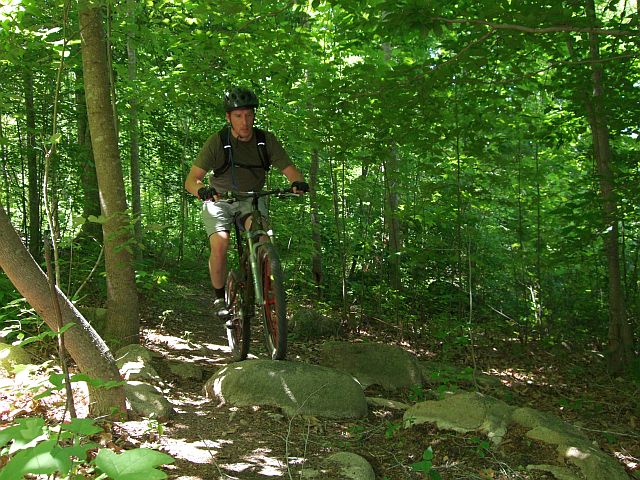 Directions
If coming from the south, from the intersection of hwy 15-501 and hwy 64 just north of Pittsboro, take 15-501 north for about 6 miles. Briar Chapel Parkway is the first left past Jack Bennett Rd and is only about 0.2-0.3 miles past Jack Bennett. Take Briar Chapel Parkway as directed below:

If coming from the north, take hwy 15-501 south about 5.8 miles from the intersection of hwy 15-501 and hwy 54 to Briar Chapel Parkway which will be on the right. Take Briar Chapel Parkway as directed below:

If coming from the east, you have to get around Jordan Lake. Use the mapping source of your choice to find a route which best leads to the intersection of hwy 15-501 and Jack Bennett Rd and pick up Briar Chapel Parkway and then follow it as directed below:

Follow Briar Chapel Parkway about 1.7 miles to a traffic circle. On the opposite side of the circle on the right is the clubhouse and pool and there is plenty of parking here. Ride down Norwood Drive about 1000 feet and the trail will cross. The trail rides well in either direction.
Driving Directions via Google

Hours and Fees
Free of charge, 24 hours a day, 365 days a year!
Do not modify the trail. All work must be sanctioned by the land managers.
All riders must wear a helmet.
Keep your bike under control.
Do not disturb or alarm wildlife.
Pets must be kept on a leash at all times.
Leave no trace (don't litter).


This trail is open for night riding at any time.

Review Briar Chapel trail
Rules, guidelines, and definitions for our TriangleMTB.com trail reviews

The trail reviews should be reviews based on first hand knowledge. If you have never ridden the trail, then ride it before reviewing it.
Obviously, the ratings and reviews should be just that, not big discussions, stuff for sale, or chit chat.
Ratings should be made relative to the other trails in the greater triangle area of North Carolina (listed on our review page). For example, the "Technical" difficulty rating should be relative to the most technical trail listed on our review page.
There should be no references to other reviews in your review (eg. you should not argue or state disagreement with other reviews).
No profanity or vulgar words or context.
Keep in mind, these reviews are opinions only. One mans pleasure is another mans pain. Take the reviews with a grain of salt.
Please report inappropriate reviews using the link that appears beneath the rating summary of each review.
You must be logged into our forum to submit a trail review.
Briar Chapel trail has been reviewed 35 times by our trianglemtb.com guests.
I rode this yesterday, two days after some pretty strong thunderstorms. I hit everything but the Herndon Loop and skills area. Pluses: not a huge amount of other riders, easily accessible, well-maintained (mostly). Minuses: large number of walkers, you're riding practically in backyards at times (at least parts of the main trail feel that way), signage is okay but not stellar (e.g. finding Bennet Mtn/Herndon from the main loop can take some searching). The main loop is nice and has some reasonable fast/flowy parts, but because this winds through the middle of a (rapidly expanding) subdivision), you have to keep your eyes peeled at all times for walkers sharing the trail. There is almost no elevation on the main loop, there are some gentle dips and rises but no actual climbing. There are some pretty seriously rocky parts, including one rock garden that I had to walk a couple of times just to make sure I could actually see where the trail exited.

Bennet Mtn. was not fun at all for me. I was trying to get to the Herndon loop but gave up - it's just rocky obstacle after rocky obstacle as you wind up a fairly steep hillside - if that's your thing, you might dig it, but I definitely did not. It was also pretty hard to follow in parts, figuring out what was trail and what wasn't proved difficult.

Having said all that, if I lived in Briar Chapel I'd be out on this thing every freaking day. It's plenty nice, it just isn't my favorite. The flowy parts are sweet, but worrying about crashing into pedestrians kept me on edge a bit, and the rocky parts are too slow and rocky for my tastes. The trail was plenty dry, btw, although other reviewers imply that the Herndon Loop does not drain as quickly (again, I never got there).
Tight technical single track. It took me multiple trips to find the flow in some sections but once I figured it out even the technical parts had a good flow to them.

Herndon loop takes a few days to dry out completely after the rain but it a great loop with berms and lots of jumps to session for hours.
Fun w/ lots of rocks. A little weird riding in a subdivision but would love to have a trail that close to my house!
Skills area jumps are fun. Herndon Loop was fun and flowy.
Rode it this summer and don't remember the rocks and signage both being so horrible. Omg.
Great trails overall, in the midst of a residential development.
Skills area is very nice for those so inclined.
Nice mix of tight singletrack and rocky/rooty sections for technical skills. Mellow topography offers some hills, but nothing sustained.
Night riding is a real bonus.
More technical than Brumley Forest - much tighter singletrack with more technical sections.
Trails tend to stay fairly wet after rain.
Overall, this is a really nice trail system.
I'd say about 25% of this trail is Rick gardens and roots. Zero flow to be found here. Are you a trials guy? This place is for you. Looking for a swoopy flow trail? Go back to lake Harris. Nice skills area, but the rocks. Good lord. Maybe I'm just not good enough to enjoy this kind of trail.
I rode the Skills Area (then the pump-worthy Herndon Loop) for the first time yesterday. What a blast!
Very professional design and solidly built. Everything is new and in great shape. Kudos to TORC!
Definitely worth the drive to session for hours if you like jumps, drops, skinnies and elevated bridges.
Basically a 30 second pump run followed by a 90 second easy pedal back to the start
(not steep, but soft mulch path back up).
The only suggestion for improvement would be a pair of big wall rides at the
end of the last berms to avoid braking and carry momentum back upward.
I'm ready to help build them.
Note: I've not ridden the rest of the trail system.
Look carefully on the right as you drive in to spot the Skills Area (small berms are visible from the road).
First time riding it today. General markers where few and far between, but when they were there I was very thankful.
This single loop is part of an upper-class neighborhood and thus scenery is all but lost with overflow ponds, a middle school, and housing construction. I did enjoy the trails when they were more secluded.
The trails were very much single track and in parts you will brush up on thorns if you go in warmer seasons and thus don't leave much room to make your own path.
Flow was all but lost and the trails were primarily dominated but rather difficult rock gardens that would be better suited for a high BB and a full suspension.
As this was a neighborhood trail, there were no major climbs or descents and was primarily a mix of ups and downs with no true flow but lots of technical sections.

Personally, the trail itself (I wasn't able to find the jump area) was by far not worth the 40 min drive and even felt awkward with it being part of a neighborhood.
First off, thanks for the folks who build biking trails in the area.

I like mountain biking because of the serenity of being out in the woods. It gives me the feeling of being away from it all. Since these trails were built around a neighborhood, I felt like I was in someone else's backyard almost all the whole time. As a matter of fact, I ended up in someone's backyard at one point. I never felt I was out in the woods. Also there was no flow to speak of, and the only technical parts were the rock gardens, which were cool. I also got lost because the trails are poorly marked, especially when the trail ends on a paved road, there was no indication on where it picks up.

I rode these trails for the first time today, and probably will be the last. It wasn't worth the 20min drive from Cary.
Show all reviews