Your source for Mountain Biking in the Triangle

Raleigh-Durham-Chapel Hill
Lake Crabtree County Park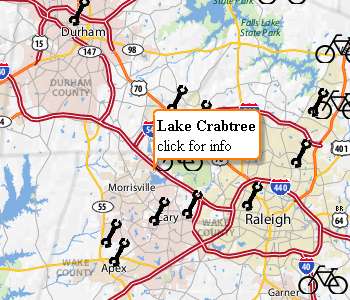 Average ratings submitted by users
Write a review
User submitted reviews
| | |
| --- | --- |
| Category | Average Rating |
| Overall : | 3.8 / 5.0 based on 85 votes |
| Technical : | 1.8 / 5.0 based on 85 votes |
| Climbing : | 1.7 / 5.0 based on 85 votes |
| Freeride : | 2.4 / 5.0 based on 85 votes |
| Scenery/Wildlife : | 3.3 / 5.0 based on 85 votes |
| Flow : | 4.0 / 5.0 based on 74 votes |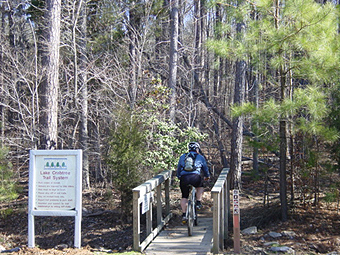 Description
Location: Just south of the RDU airport, off Aviation Parkway.
Miles: about 8
Skill Level: Beginner
Contact: Park office (919)460-3390 (call to see if trails are open)
Map
Park Hours and Fees
Directions
Rules of the Trail
Pump Track

Lake Crabtree County Park singletrack is by far the most popular place for beginner riders in the Triangle. Its central location is also great for relieving weekday stress if you work in RTP. The wooded trails connect to Umstead State Park and Cary's Black Creek Greenway.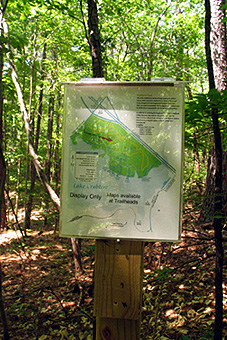 Since it's so popular, plan on passing lots of other riders when the weather's good. Please be courteous and cautious with the riders you meet here. It is a great place to learn to ride and don't expect to come here and hammer people out of your way. Stopping to help out beginner riders does a world of good for our sport. There are six loops, some connectors, and the Lake Trail.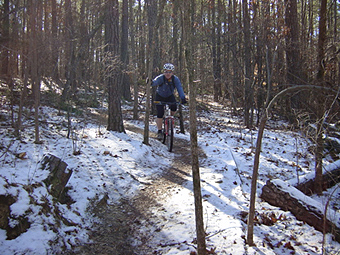 IMPORTANT NOTE: Crabtree trails are closed when they are muddy. Call ahead to see if they are open. Please respect the rules of the trail and don't ride on closed sections.

Directions
Go towards RDU airport on I-40 and exit onto Aviation Parkway going south. Crabtree County Park entrance is on the left. You may park in the first gravel parking lot or at the boat ramp parking area. One of the main trail entrances is across the road from the first gravel parking lot. Another great way to access the trail is via Connector C.
Boat Ramp driving directions via Google
Old Reedy Creek parking lot driving directions via Google

Park Hours
8:00am to sunset, seven days a week. The park is closed on Thanksgiving Day, Christmas Eve, Christmas Day, and New Year's Day.
All riders must wear a helmet.
Respect the rights of all other trail users and obey park rules and regulations. Bikers must always yield to walkers.
Plan Ahead.
Ride only on officially marked trails.
Keep your bike under control.
Do not disturb or alarm wildlife.
Pets must be kept on a leash at all times.
Leave no trace (don't litter).
Set a good example and report violators/hazards.
Allow time to finish outings before the park closes.
Park management has requested that group rides park at the boat ramp parking area. This leaves ample parking for the users of the open play lot.
Thanks to the wonderful staff of Lake Crabtree Park and volunteers, the first public pump track in the triangle area has been built. The pump track is located near the "old field rows" label on the map near the intersection of Connector A and Loop 1.

A pump track is a series of rollers and berms. Its intended to teach one to learn how to pump their bike over ups and downs on a trail, which when mastered, a person will be able to accelerate their bike with out pedaling. The pump track is not really intended to be jumped, which defeats the purpose of the track.

Rules/Guidelines

The building of the pump track involved uncounted hours of planning, negotiations, and construction labor. Please follow these guidelines to help preserve the pump track in a good condition.

no skidding
no pedaling
no braking
helmets required
lower your seat
body position should be more upright as you approach the roller
push down as you come over the roller
easier on a hard tail but can also be done on a full suspension bike

Note that if feels awkward at first. But once you get use to it, it's a lot of fun and a really good workout. Pedaling and braking destroys the rollers and berms. Especially when you "catch" a roller by pedaling over it.





This trail is not open for night riding except under organized night ride events coordinated with cycling clubs and park staff. Stay tuned to this site for upcoming night rides.

Review Lake Crabtree Park trail
Rules, guidelines, and definitions for our TriangleMTB.com trail reviews

The trail reviews should be reviews based on first hand knowledge. If you have never ridden the trail, then ride it before reviewing it.
Obviously, the ratings and reviews should be just that, not big discussions, stuff for sale, or chit chat.
Ratings should be made relative to the other trails in the greater triangle area of North Carolina (listed on our review page). For example, the "Technical" difficulty rating should be relative to the most technical trail listed on our review page.
There should be no references to other reviews in your review (eg. you should not argue or state disagreement with other reviews).
No profanity or vulgar words or context.
Keep in mind, these reviews are opinions only. One mans pleasure is another mans pain. Take the reviews with a grain of salt.
Please report inappropriate reviews using the link that appears beneath the rating summary of each review.
You must be logged into our forum to submit a trail review.
Lake Crabtree Park trail has been reviewed 85 times by our trianglemtb.com guests.
| | |
| --- | --- |
| | This is a great go-to trail for my family. There are jumps for my boys and I can take all of my kids through out the whole park. I can think of just a few spots that my younger kids would need to walk or just skip that part as CT has much to offer. Great length of tail and that you can connect to Umtead can make for a great long bike ride! There is also an annual bike race that offered through https://usmtbseries.com/ I can not recommend this enough if you want to be pushed a bit. This can be competitive if you want or just ride for yourself as great time for all, very approachable to all. |
| | Very fun trail; usually isn't too busy on weekdays and has pretty good flow |
| | No detailed review given. |
| | The trail is actually quite good but because RDU is no longer accessible for riding this trail overcrowded now. During the work days it is actually fun, but weekends are very busy with hikers, bikers and dogs but we need to share for everyone to enjoy the sports, so I am fine with it. So happy to have it in my backyard! |
| | really enjoyed the dirt jumps |
| | The grand daddy of legal Triangle trails, starting back in 1992, which was about the time I began off-road trail riding. Due to a lot of usage, especially by beginners, the trail surface is packed well. Some of the original downhills in the Loop 1 area were re-designed many years ago to add distance and fun flow. Because of the great flow the course is fast, especially in the Loop 1 and 2 area. I always have a smile on my face when I get finish a fast, flowy ride here. Thanks to park management and TMTB for keeping trail in good shape for riders of all levels. |
| | No detailed review given. |
| | Overall a pretty easy set of trails. Quite a bit of roots and bumps, very short descents and assents, and not a whole lot of elevation change. Not very challenging for a seasoned rider, but a fun set of basic trails. |
| | Good trail to get introduced to mountain biking. Nothing really technical here. Some good flowy sections. |
| | New to the area and would love to see the jump line area flowing again @ Crabtree. Anyone to contact to help get the jumps up and running? Bryan |
Show all reviews
"Our paths to off-road mastery reflect our personalities."
-Hank Barlow