Your source for Mountain Biking in the Triangle

Raleigh-Durham-Chapel Hill
Angler's Ridge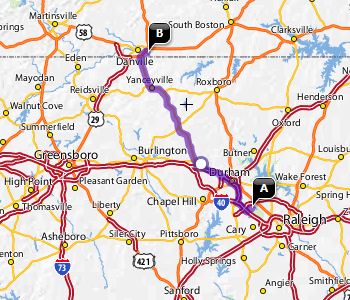 Average ratings submitted by users
Write a review
User submitted reviews
| | |
| --- | --- |
| Category | Average Rating |
| Overall : | 4.7 / 5.0 based on 25 votes |
| Technical : | 3.0 / 5.0 based on 25 votes |
| Climbing : | 3.7 / 5.0 based on 25 votes |
| Freeride : | 1.7 / 5.0 based on 25 votes |
| Scenery/Wildlife : | 4.1 / 5.0 based on 25 votes |
| Flow : | 4.3 / 5.0 based on 25 votes |
Description
Location: Danville, Virginia
Miles: 35
Skill Level: Novice to Intermediate
More Info : SVMBA
Map
Directions
Park Hours and Fees
Rules of the Trail

The Angler's Ridge trail system is a wonderful set of trails well worth the drive from the Triangle. These trails are narrowish rolling trails with enough rocks and roots to keep you on your toes. Witchback Mountain trail is now complete, bumping the mileage up to 25 miles. It breaks off from the Angler's Ridge trail shortly after leaving the parking lot. To get to Hidden Hollow and White Fawn, follow the sign on Witchback to the greenway and look for White Fawn trail to the right just after you pass under the Highway 29 bridge.
SVMBA needs your help!
If you've ridden Anglers, please share your thoughts by submitting a trail review.

SVMBA will be meeting with City Council soon to discuss the economic impact that Virginia's 5th highest ranked trail system has had on the community over the past 7 years. Important points to include ...

the time and mileage you drive "roundtrip" to visit Danville, how many visits you've made in the past 6/12 months, what type of rider you are, do you bring your family, how are the trails at Anglers different from your "local" trails, what do you think about the races and other events, etc.

City Council and Economic Development members just need more insight from users as to the true "value" of the trail system. They don't hate trails ... they just simply don't see the "diamond" in the rough. The misnomer of "mountain bike" confuses them because they simply don't believe there are any "mountains" anywhere near Danville. Part of SVMBA's presentation will be to discuss the "broad" use of the term "mountain" to describe "natural surface" trail riding and running. Your comments WILL be included in the presentation.


Directions
From I85 Take exit US-70 W/NC-86 N onto US-70 W - go 6.5 miles.
Turn right on NC 86 N(NC-86)
In Yanceville, NC 86 breaks from NC-62. Turn right to stay on US-86. Watch for this.
Just as you enter Danville, take ramp onto Danville Expy(US-29 N) toward South Boston/VA-265 N.
After you cross over the Dan River (~2.6 miles) Turn right onto River Park Dr.
0.4 miles and the road t-interesects Stinton Dr. Turn right.
Go 0.1 miles and turn left on to Northside Dr. Look for the boat launching ramp sign.
Take this all the way to the end past the water treatment plant to the large parking lot.

Driving Directions via Yahoo

Park Hours
Dawn until dusk. There are no fees to ride here.
All riders must wear a helmet.
Respect the rights of all other trail users and obey park rules and regulations. Bikers must always yield to walkers.
Plan Ahead.
Keep your bike under control.
Do not disturb or alarm wildlife.
Leave no trace (don't litter).
Allow time to finish outings before the park closes.


This trail is not open for night riding except under organized night ride events coordinated with SVMBA

Review Angler's Ridge trail
Rules, guidelines, and definitions for our TriangleMTB.com trail reviews

The trail reviews should be reviews based on first hand knowledge. If you have never ridden the trail, then ride it before reviewing it.
Obviously, the ratings and reviews should be just that, not big discussions, stuff for sale, or chit chat.
Ratings should be made relative to the other trails in the greater triangle area of North Carolina (listed on our review page). For example, the "Technical" difficulty rating should be relative to the most technical trail listed on our review page.
There should be no references to other reviews in your review (eg. you should not argue or state disagreement with other reviews).
No profanity or vulgar words or context.
Keep in mind, these reviews are opinions only. One mans pleasure is another mans pain. Take the reviews with a grain of salt.
Please report inappropriate reviews using the link that appears beneath the rating summary of each review.
You must be logged into our forum to submit a trail review.
Angler's Ridge trail has been reviewed 25 times by our trianglemtb.com guests.
Rode there for the first time on a warm Saturday morning in May. Pretty easy to do a variety of loops that start and end in the parking lot, which is convenient for refueling and resting in between laps. Witchback had a few steep climbs, but otherwise was flowy and not too technical. It's probably better as a fall or winter trail given how much of the trail was through tall grass. Hot Tamale, Little Pisgah, and Crooked Stick are fun and flowy, while including some steep sections. Overall these trails are good time, but they need more maintenance. I heard that there was a hurricane a couple years ago that did some damage that's never really been addressed.
No detailed review given.
Fun trail system. The builders used the elevation wisely to make for some punchy climbs and fun flow sections. Will definitely make the drive again!
Drove up to Anglers today from Pittsboro to get some climbing in. Witchback never disappoints. Rode 3 loops and took care of some work under the pavilion (Free wifi through the city of Danville).

I haven't been up there in a while but was pleased to see the tool stand next to the bike washing station. Anxious to get back up there soon and ride some other trails.
My overall experience is limited to tge blue trail at this time. I did not find this particular route in the ccw direction "flowy". As soon as u built speed it was time for another climb or sharp turn. It was not too terribly rooted or technical. The trails are well marked and easy to follow with or without maps and that is nice. As i ride this trail more and do more routes i will post more reviews.

Keep riding
Mike
Great trail system. Worth the drive from Raleigh. Nice to get out and have some variety from local trails. You can get a good amount of miles in with some decent climbs.
It was a little over a one hour drive from the triangle (Durham), but well worth it. I rode the Witchback followed by the red loop. What makes Angler's Ridge great is not only the amount of trails, but the great flow. Not highly technical although there is plenty of climbing on the Witchback and Crooked Stick. It was nice to just pick a color and follow it.
The anglers ridge trail system is great it is highly accessible from nc. and va. The trails are some of the best marked and maintained around and include a bike wash. The flow is nice, fast and unusually free of fallen trees. The trails include some good climbing and nice trails that are cut in the side of the hills flowing with the hills. My hats off to svmba for maintaining trails. A bridge was out on the blue trail the supports being washed out. The trail was temporary rerouted and a few months later a new bridge was in place. If you haven't been check it out. It's also close to Dan Daniel park just over interstate 29.
Rode the red loop with a crew of folks. Conditions were great. Re-route at the top end after Hot Tamale was a bit sandy and sucked in wheels but after a few weeks should be solid. One of the SVMBA trail stewards was running the trail and very friendly/helpful. Great trail system and will be headed back to try out the new Hidden Hollow trail
The anglers ridge rocks. Hidden hollow trail is super d duper fun.
Show all reviews