Your source for Mountain Biking in the Triangle

Raleigh-Durham-Chapel Hill
Green Hills County Park
Average ratings submitted by users
Write a review
User submitted reviews
| | |
| --- | --- |
| Category | Average Rating |
| Overall : | 1.7 / 5.0 based on 3 votes |
| Technical : | 1.3 / 5.0 based on 3 votes |
| Climbing : | 1.0 / 5.0 based on 3 votes |
| Freeride : | 0.7 / 5.0 based on 3 votes |
| Scenery/Wildlife : | 0.0 / 5.0 based on 3 votes |
| Flow : | 1.0 / 5.0 based on 3 votes |
Description
Location: 9300 Deponie Dr, Raleigh, NC 27614
Miles: 2-3
Skill Level: Beginner

Trail Map
Directions
Park Hours and Fees
Rules of the Trail

Formerly known as North Wake Landfill Park, the trail system is a neighborhood system, located near greenways. Small fun trail that will strive to be open as much as possible along with a small skills park.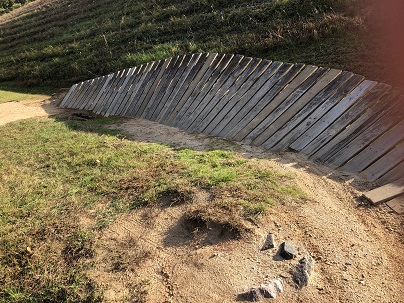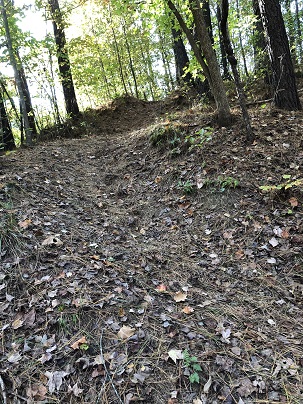 Driving Directions via Google Fees
No fees, but donations to TORC are always welcome
The trails are closed to bike riding when wet.
Ride or walk on the right side of the trail.
Helmets are required for all riders.
Bicyclists must ride single file.
Stop only on the shoulder of the trail.
Do not cut the trail.
Give an audible warning before passing others. Announce yourself and slow down to pass.
Ride at a responsible, controlled speed.
At this time, e-bikes are not permitted.
Prohibited Activities and Items
Littering
Off-Trail Riding and Hiking
Racing on bikes
Smoking
Bringing or Consuming Alcohol
Hunting
Firearms
Motorized vehicles must be parked in the parking lot and may not be used anywhere other than the parking lot. Vehicles parked along the road are subject to removal.
At this time, e-bikes are not permitted.
Pets must be leashed at all times with no exception, and all waste must be removed


This trail is not open for night riding at this time.

Review Green Hills trail
Rules, guidelines, and definitions for our TriangleMTB.com trail reviews

The trail reviews should be reviews based on first hand knowledge. If you have never ridden the trail, then ride it before reviewing it.
Obviously, the ratings and reviews should be just that, not big discussions, stuff for sale, or chit chat.
Ratings should be made relative to the other trails in the greater triangle area of North Carolina (listed on our review page). For example, the "Technical" difficulty rating should be relative to the most technical trail listed on our review page.
There should be no references to other reviews in your review (eg. you should not argue or state disagreement with other reviews).
No profanity or vulgar words or context.
Keep in mind, these reviews are opinions only. One mans pleasure is another mans pain. Take the reviews with a grain of salt.
Please report inappropriate reviews using the link that appears beneath the rating summary of each review.
You must be logged into our forum to submit a trail review.
Green Hills trail has been reviewed 3 times by our trianglemtb.com guests.
The trails themselves are covered by other reviews. Not very exciting, but they work in a pinch. The draw to this area is the opportunity to get creative. If you make the climb to the very top, you're able to drop in over the sides of the hill for a moderately fun downhill experience. I wonder if it would be possible for the trail builders to actually carve a path down the main mountain?? The sheer size of "Mt Trashmore" would be perfect for designing a few downhill thrill trails.

Head over to Lower Landfill Hill where you'll find a skills area for beginner-intermediate. If you're comfortable launching through the air, this won't excite you. But the small rock gardens, skinnies, and wall ride with a mellow slant are good for getting toes wet on features. I would LOVE to see some mellow tabletop jumps or small drop features added. Raleigh just doesn't have many places to practice these skills.

Charge down the SE corner of the Lower Landfill Hill for a straightline downhill plunge which has been cleared of weeds and loose rock. You can get going pretty fast; just make sure to hit the brakes close to the bottom because there is no run out!
Rode this today since everything else was closed. It's not like Crabtree or Forest Ridge or anywhere else. This is like if you just need to get out for a quick ride and have 10 or 15 minutes it's VERY much like Regency trails (if you know you know) but without all the fun. It's a makeshift ridge line trail alongside a fence on a slope. It's almost like you're riding in the woods back behind someone's house. It's fun for a quickie if everything else is closed, or for taking the kids or family. It's got a lot of paved path options.
Two of the three main trails are "out and back" trails that will end up in congestion, and are not long. As compared to other nearby options, it just wasn't very fun. I took my 11 and 9yr old daughters, and they much prefer Crabtree, Harris, and Williamson to this.