Your source for Mountain Biking in the Triangle

Raleigh-Durham-Chapel Hill
Harris Lake County Park: Hog Run Trail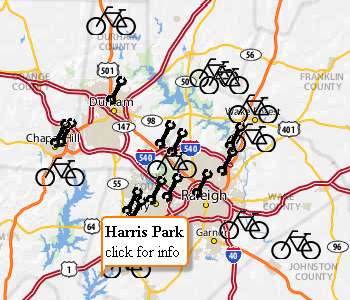 Current Trail Status
Status
When Updated
Who Updated
More Info
Help keep this info accurate by clicking the red bicycle
closed
06/02 12:56 pm
Clemmys
Average ratings submitted by users
Write a review
User submitted reviews
| | |
| --- | --- |
| Category | Average Rating |
| Overall : | 3.6 / 5.0 based on 57 votes |
| Technical : | 2.2 / 5.0 based on 57 votes |
| Climbing : | 1.8 / 5.0 based on 57 votes |
| Freeride : | 2.1 / 5.0 based on 57 votes |
| Scenery/Wildlife : | 3.7 / 5.0 based on 57 votes |
| Flow : | 3.8 / 5.0 based on 49 votes |
Description
Location: Southwestern Wake County
Miles: 8
Skill Level: beginner to intermediate
Contact: Park office (919) 387-4342 (call to see if trail is open)

Map
Park Hours and Fees
Directions
Rules of the Trail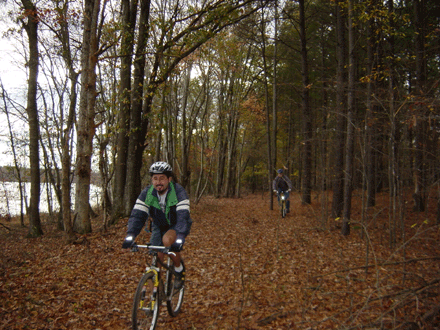 Like Lake Crabtree Park, Harris Lake's mountain bike trails are close to a lake, made up of several loops that connect to a main trail, and are managed by Wake County Parks. The breeze coming across the water can be quite refreshing on a hot summer day! The major loops here are signed as "beginner", "intermediate" and "advanced", and can be enjoyed by all skill levels. A few optional "double black diamond" loops have been added near the advanced section. This trail has something for everyone, from the "just got my first off-road bike" beginner to the more seasoned rider, and all obstacles have optional ride-arounds so that beginners and veterans can enjoy the trails together. In short, this is just a good set of single-track trails. Currently there is approximately 8 miles of bicycling trails.

The park is located in a flatter part of Wake County so there aren't as many long or steep hills as some other trails, but rest assured, the available terrain has been used wisely. There are several log crossings, a couple of whoopdee-doo sections and a few small bridges on the trail.

Harris Lake County Park also has full amenities such as restrooms, picnic shelters, play areas, Frisbee golf, fishing locations and canoe rentals.

Check the Events calendar for upcoming races and trail workdays at Harris Lake County Park.

Park Hours and Fees
8:00 am to sunset, seven days a week. Hours are posted at the gate, and on the phone answering system. The park is closed on Thanksgiving Day, Christmas Eve, Christmas Day, and New Year's Day.
Access to the park is free.

Directions
From Raleigh: Take 440 to US 1 South. Take US 1 12 miles from beltline to exit 89. Take a left and go about 2 miles to the park entrance. Go to the back of the park and turn left into the parking area. The trailhead is labeled "Hog Run Trail".
From Durham/Ch. Hill: Take 751 past New Hill and over US 1 (Note: road changes name a few times, just keep on keepin' on). After
crossing over US 1 go about 2 miles to the park entrance. Go to the back of the park and turn left into the parking area. The trailhead
is labeled "Hog Run Trail".

Driving Directions via Google
Trails are closed when wet. Call the park office to check status.
Gates are locked at posted closing time, be off the trail ½ hour before park closing.
Wear a helmet
Ride on designated biking trails only.
Be courteous to other users.
Don't litter.


This trail is not open for night riding except under organized night ride events coordinated with cycling clubs and park staff. Stay tuned to this site for upcoming night rides.
Review Harris Park trail
Rules, guidelines, and definitions for our TriangleMTB.com trail reviews

The trail reviews should be reviews based on first hand knowledge. If you have never ridden the trail, then ride it before reviewing it.
Obviously, the ratings and reviews should be just that, not big discussions, stuff for sale, or chit chat.
Ratings should be made relative to the other trails in the greater triangle area of North Carolina (listed on our review page). For example, the "Technical" difficulty rating should be relative to the most technical trail listed on our review page.
There should be no references to other reviews in your review (eg. you should not argue or state disagreement with other reviews).
No profanity or vulgar words or context.
Keep in mind, these reviews are opinions only. One mans pleasure is another mans pain. Take the reviews with a grain of salt.
Please report inappropriate reviews using the link that appears beneath the rating summary of each review.
You must be logged into our forum to submit a trail review.
Harris Park trail has been reviewed 57 times by our trianglemtb.com guests.
Harris is a blast. The lines in the double black section are awesome, I could spend hours there on the rock drop, roots and fast descents. The flow track is good but if you get out of sync it's tough to get back in rhythm. It's pretty flat but the trails are smooth and really fast to keeping speed is easy. Skills area is fun with a couple of good jumps.
I wish these trails are a little closer to home (Cary) or I'd ride them more. This is like a little more advanced version of Lake Crabtree, which is my go-to trail since it's near home and work. The beginner+intermediate sections give a nice warm up. The advance sections just has longer hills and rootier sections, but nothing ultra-technical that anyone with intermediate skills can't ride. The double-black sections just has some high whoop-de-do's and longer down hills, but nothing too gnarly. All sections give a nice view of the lake.
awesome place to ride...i would definitely take a beginner there to learn has simple flow..only one down side is this place takes minimum of 5 days to reopen after more than a half inch of rain..if we ever go into a drought this is the place to ride!
This is the perfect trail when you don't feel like worrying about the perfect line and you just want to ride and enjoy going fast in the woods. There is little to no difficulty on most of the trails for anyone who has decent riding skills. You can add some difficulty if you want with several gaps and jumps but you can also just roll them and keep going. This park was very well constructed and major kuddos to TORC for making these trails as fun and rideable as they are.
I'm a Crabtree kind of guy- I love the swoopy banked turns and fast downhill singletrack that they have there. Lake Harris has lots of that- even more than Crabtree has. There's a new "flow trail" thats like a giant pump track with short jumps that must be navigated to maintain your speed. I found it to be confidence-building because you really have to hit it hard to ride it correctly. This or Brumley is where I'd take a beginner friend. If ridden at a faster pace, this trail can be as challenging as you like. There's little elevation change overall. My favorite in the triangle area for sure.
Beginner, intermediate sections are a nice warm up. The section labeled advanced, is more of an intermediate section. Lots of small burms, good speed in both directions on most sides of the trail. I found the west side had the most roots and least amount of flow.N, S, E were very fast in both directions.

Definitely worth the trip out there. Scenic area up against the lake. Not much climbing. Signage was ok, but easy to navigate your location. Its looped in a way that makes it fairly easy to determine your location and direction with the few maps that are there.
Really nice flow trail it is really fun to ride here ...
Significantly improved over the last few years. Faster and much less rooty.
Great beginner trail to ride, but it seems as if it is closed a lot. It has not rained in a week and it has been closed all week since the last rain. I don't get it. It was beautiful On Wednesday and it was closed. Anybody know why? That is the only knock I give this trail, is that is closes very easily and stays closed for an extended time.
I think these trails are a blast! Very well maintained, flows insanely well imo, great views, decent amount of trail options, good parking and restrooms, not crazy steep but I'm cool with that, no insane eye gouge trees, clean and wide down low to eliminate shark bites, berms are legit, fun bridges, and even a little skills park. Other than being a bit of a drive, I can't find too much wrong with this place. Definitely in my top 5.
Show all reviews