Your source for Mountain Biking in the Triangle

Raleigh-Durham-Chapel Hill
Little River Regional Park and Nature Area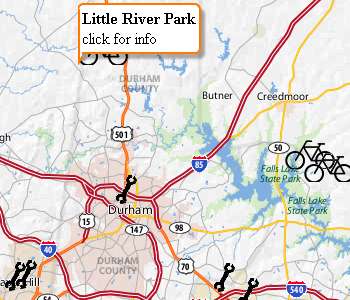 Average ratings submitted by users
Write a review
User submitted reviews
| | |
| --- | --- |
| Category | Average Rating |
| Overall : | 3.4 / 5.0 based on 29 votes |
| Technical : | 2.5 / 5.0 based on 29 votes |
| Climbing : | 3.3 / 5.0 based on 29 votes |
| Freeride : | 1.3 / 5.0 based on 29 votes |
| Scenery/Wildlife : | 2.9 / 5.0 based on 29 votes |
| Flow : | 2.8 / 5.0 based on 21 votes |
On December 5th 2004, the first legal single track in Orange County opened. Thanks to DOMBO, Little River Park had it's grand opening and well over 100 mountain bikers attended to show their support. Kudo's to all the effort and hard work put into these trails by the folks in DOMBO, Orange County and Durham County Parks and Rec, as well as all the volunteers who pitched in. Thanks!


About Little River
This 391-acre park was acquired and had been developed jointly by the two neighboring counties. The park is a cooperative venture among several partners, including Durham County, Orange County, the Triangle Land Conservancy, the Eno River Association, the Triangle Community Foundation, the NC Division of Parks and Recreation, the Land and Water Conservation Fund, the NC Recreation Trails Program, the NC Parks and Recreation Trust Fund, the NC Clean Water Management Trust Fund, and the Durham/Orange Mountain Bike Organization.


Description: Rolling singletrack in a brand new county park.
Location: 301 Little River Park Way, Rougemont, NC 27572 NC
Miles: 7
Skill Level: all skill levels; singletrack is mostly intermediate.
Map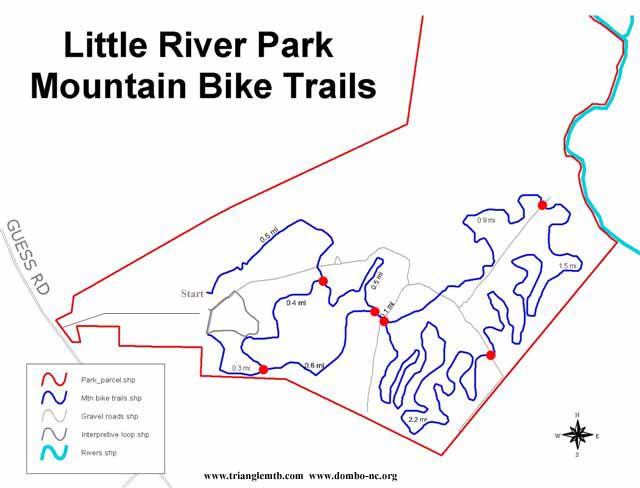 Park Hours
November - February 8 am - 5 pm
March and October 8 am - 6 pm
April and September 8 am - 7 pm
May - August 8 am - 8 pm
Closed: Christmas Eve, Christmas Day and New Years Day

Contact the Park staff to see if the trail is currently open due to conditions: 732-5505

Rules of the Trail
Blue markers indicate mountain bike trails. Over seven miles of single track trails are newly designed, built, and ready for use! Markers are found only at intersections and hiking trail crossings, and therefore signal areas where riders should minimize speed and exhibit added caution. Extra care should also be taken at trail-heads and around the parking lot, where multiple users of the park come together, possibly including horse riders. The mountain bike trails are specially designed to prevent erosion and maintain stream and river water quality. Bikers are asked to remain on posted mountain bike trails at all times. Biking on the gravel logging roads should be limited to emergency situations only. The level of technical difficulty on trails increases with distance from the trail-head. Since use of the gravel roads is not meant for bikers, please plan a route that permits a return path along the mountain bike trails. Donít forget that the parkís gates lock at dusk! Bikers must be aware that hikers, while not encouraged to use the bike trails, are allowed to explore the trail system. However, biking trails are made for bikers, and hikers are advised to yield to riders on the mountain bike trails. Please report any problems encountered along the trails to park staff.

Directions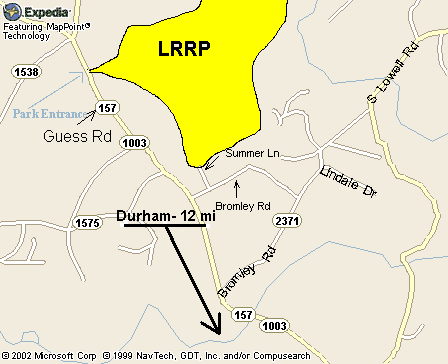 301 Little River Park Way
Rougemont NC 27572

Driving Directions via Google
Review Little River Park trail
Rules, guidelines, and definitions for our TriangleMTB.com trail reviews

The trail reviews should be reviews based on first hand knowledge. If you have never ridden the trail, then ride it before reviewing it.
Obviously, the ratings and reviews should be just that, not big discussions, stuff for sale, or chit chat.
Ratings should be made relative to the other trails in the greater triangle area of North Carolina (listed on our review page). For example, the "Technical" difficulty rating should be relative to the most technical trail listed on our review page.
There should be no references to other reviews in your review (eg. you should not argue or state disagreement with other reviews).
No profanity or vulgar words or context.
Keep in mind, these reviews are opinions only. One mans pleasure is another mans pain. Take the reviews with a grain of salt.
Please report inappropriate reviews using the link that appears beneath the rating summary of each review.
You must be logged into our forum to submit a trail review.
Little River Park trail has been reviewed 29 times by our trianglemtb.com guests.
Note: There are SKILLS areas which I don't ride on MTBs in the beginner and Advanced sections.

If you are looking for a good 1 hr ride of XC single track to get a workout / exercise with a lot of climbing and a few, short downhill short-sections between narrow trees, roots and rocks, this is a good choice.

If you are looking for long, machined trails with a lot of smooth and flowing berms and whoops, look to Harris or San Lee. This is the polar opposite of that.

The ideal rider for these trails would be someone local to these trails looking for some exercise in a bit-sized amount. The climbs are punchy and there is some variety, but really just in switch backs and the close, narrow wooded environment.

Someone who likes these trials would more than likely prefer Beaver Dam's longer loop, as Beaver Dam feels like an evolved version of these trails (XC) with more dynamic / longer climbs and double the workout.

Good trails to get a ride in, but not if you are looking for Harris / Crabtree / SanLee.
Went out here with my 9 year old son. First two loops are good for kids or beginners, pretty flat without too many roots or rocks. The pine needles and leaves make for poor traction and keep you from maintaining a lot of speed and also hide smaller rocks and roots, otherwise this would be more fun.

Would come back if I was in the area, but not worth the drive from Raleigh by itself.
Went to Little River for the first time today. It's a fun trail but the advanced section was pretty slippery because of all the leaves. It was still a good seven mile workout. I can't wait until the skills section opens up because that looks fun and I will go back much more when that does open. I saw a deer. A female deer...
Little River offered a challenging experience of single tracks for riders of all skills, but failed to WOW me as a rider.

The Advanced portion of the course could be a good challenge for an intermediate rider looking to test their skills. There are some steep climbs that teaches one to shift their weight back to avoid spinning out the rear wheel. Most of the trail is has more flow then technical spots. Most of the trail is on pine needles. Those with wider handlebars will have an extra challenge between some narrow turns between the trees. The signage was excellent on the trail, and the skills portion of the track was a treat.

The one complaint that kills the experience for me, is that a large portion of the technical track feels repetitive and as if you are not progressing to new trail. To many switch backs, and climbs that seem to similar to one another.
Went out in the dead of winter. Lots of pine needles. Hilly.
First time on a true singletrack and I really enjoyed it despite being a bit damp/slick from the previous day's rain.
I never felt like I was in over-my-head or had to walk over/around anything.
The climbs weren't as bad as I expected after reading other reviews.
Looking forward to going back!
Rode this trail yesterday for the first time on account of it being the only one in the Triangle area that wasn't closed due to recent rains. I really liked the trail and would agree with the other posts describing it as a hillier Crabtree/Harris without the crowds. I rode a Surly Krampus (long wheelbase 29+ hardtail) with a 750mm wide handlebar which made it tricky maneuvering through some sections at speed, seems to me that the ideal bike for this trail would be an old-school 26'er with narrow handlebars and a short wheelbase.

The only real challenging technical feature is an optional skinny that sits below the main trail, I skipped it as it didn't look worth the hassle of climbing back up.

The climbs are short but steep. Riding clockwise seems to give you longer but easier climbs, riding counterclockwise gives you shorter, steeper climbs. Most of the other riders seemed to be riding clockwise. I did a couple laps in each direction and think I preferred clockwise.

It's kind of a bummer that this trail is so far from Raleigh but that distance is what keeps the crowds down and what allows it to be open when the Raleigh trails are closed.
No detailed review given.
MC Escher actually designed this trail so you can continually go up. None of the climbs are too much but by the same token the descent never materializes, or there is a hard turn up hill to a switch back when the hills just begging to be blasted down the other way.

I actually like this place though because it doesn't draw too much of a crowd. But the downside to that is there are lots of pine needles which makes it a little slick.

I heard a while back that they may add mileage here which would be a good thing. A bit more flow would be fun with technical mixed in strategically.
Fun trail! Lots of curves, switchbacks, etc. Climbs are rare, but you know when you get to one. Good times!
Show all reviews