Your source for Mountain Biking in the Triangle

Raleigh-Durham-Chapel Hill
New Light Trails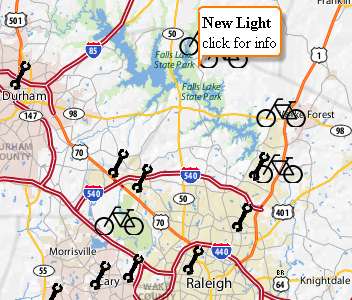 Average ratings submitted by users
Write a review
User submitted reviews
| | |
| --- | --- |
| Category | Average Rating |
| Overall : | 4.2 / 5.0 based on 61 votes |
| Technical : | 4.2 / 5.0 based on 61 votes |
| Climbing : | 4.1 / 5.0 based on 61 votes |
| Freeride : | 2.8 / 5.0 based on 61 votes |
| Scenery/Wildlife : | 4.1 / 5.0 based on 61 votes |
| Flow : | 2.9 / 5.0 based on 55 votes |
Description
Location: North Raleigh, near Falls Lake
Miles: ~10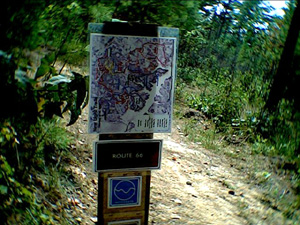 Skill Level: All skill levels; singletrack is mostly intermediate, some advanced.
Trail Map
Directions
Rules of the Trail


This trail is a beautiful mix of tech and flow. The hilly terraine is littered with roots, rocks, logs, and dips. There are several rock gardens to hone your skills on. It follows the shore of Falls Lake and the other side of the loop flanks a couple of double tracks. They are bidirectional and ride nice either direction.

A big thank you to NRMBA for working with the State Wildlife Resources Commission (WRC) to allow mountain bikers on this land. It's a shame these trails aren't open every day of the year, because they are miles and miles of the sweetest singletrack around--especially for intermediate and advanced riders. This trail was voted number one by TriangleMTB.com users in the fall of 2002. It's a real gem!

Even when there's lots of folks there, you can ride all day in these woods and hardly see another rider. But don't worry about getting lost, because NRMBA volunteers have done a great job of putting "parking lot this way" signs up at the end of every trail. Steep and rocky hill climbs, decent downhills, small and large gullies, tight turns, big log rolls and beautiful views of the forest and lake await you.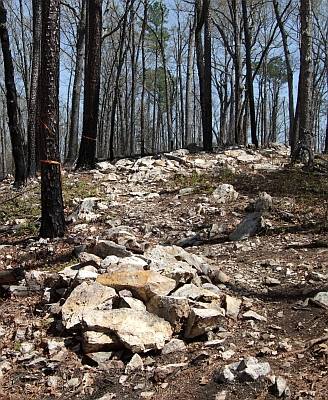 IMPORTANT RULES: According to the agreement with WRC, they will only be open on Sundays beginning September 1 each year through May 14. From May 15 through August 31, they are open everyday. Please respect these rules--the area will be closed to riders if anyone is seen riding on closed trails.
The WRC has one mission, which is to protect hunters and hunting rights. And they are immune from political pressure so if they decide to close down New Light, there is no recourse. Thanks for your cooperation.
Please leave your dog at home!! Dogs are not allowed.
Also, NRMBA does not condone night riding here.
Directions
Start at Crabtree Valley Mall. Get on NC 50 (Creedmoor Rd) and go North.
When you get to NC 98 turn right to go East on NC 98.
You will go about 1.6 miles to the first traffic light. Turn left at the light -- this is New Light Rd.
You will cross Falls Lake -- keep going and at about 3.35 mi (from the traffic light) you will see Old Weaver Trail on your left.
Turn left on Old Weaver Trail. Go 0.5 mile, and you will see a dirt road on your left with evidence of parking on the side of the road.
You can drive down this road for a few hundred feet and park or you can park on the side of road.
Driving Directions via Google


Night rides are not allowed at this trail. You jeopardize the relationship with land managers and cyclists by riding at night here.
UPDATE: June 27, 2006
Left Loop and Right Loop closed
The Eastern Territory consisting of both Left Loop and Right Loop are permanently closed by order of the land management. Please respect the closure so as not to jeopardize access to New Light.
UPDATE: April 20, 2004
Burned Out trail closed

We have met with the Wildlife Resources Commission and whereas they are still allowing us to ride at New Light, they are concerned with the number of trails we have in the area and that we might be disrupting the wildlife. Therefore, they have asked us to shut down the Burned Out trail to provide an area for wildlife where we are not riding. So in about three weeks, we will be shutting down Burned Out…so enjoy it while you can. Also, please do not build any more trails at New Light. Wildlife is currently fine with the number of trails we will have but they do not want any more.


Finally, we will be organizing a trails day for New Light in the very near future. In general, the trails are in good shape but we do need a bit of maintenance work. Since TriangleMTB.com is the official web site for the North Raleigh Mountain Biking Association, please check here for details of the next trails day for New Light.

Thanks for your continued support

Sig Hutchinson
President
North Raleigh Mountain Biking Association

Review New Light trail
Rules, guidelines, and definitions for our TriangleMTB.com trail reviews

The trail reviews should be reviews based on first hand knowledge. If you have never ridden the trail, then ride it before reviewing it.
Obviously, the ratings and reviews should be just that, not big discussions, stuff for sale, or chit chat.
Ratings should be made relative to the other trails in the greater triangle area of North Carolina (listed on our review page). For example, the "Technical" difficulty rating should be relative to the most technical trail listed on our review page.
There should be no references to other reviews in your review (eg. you should not argue or state disagreement with other reviews).
No profanity or vulgar words or context.
Keep in mind, these reviews are opinions only. One mans pleasure is another mans pain. Take the reviews with a grain of salt.
Please report inappropriate reviews using the link that appears beneath the rating summary of each review.
You must be logged into our forum to submit a trail review.
New Light trail has been reviewed 61 times by our trianglemtb.com guests.
Fairly technical compared to anything else I've ridden locally. I'd say it's a notch below San Lee but has much better flow (unless you enjoy endless switchbacks) and is overall a more enjoyable ride. Trail is fairly easy to follow(rode CCW), minus the connector to skip the closed (?) section. It's kind of just randomly off to the side and not marked well. Figured it out after I ended up back at the gauntlet and may have ridden the closed trial…not sure. Overall, I think most intermediate riders can handle the whole trail. Maybe a few sections with increased difficulty but mostly rideable. Has bailouts if something is over your skill level. Definitely one of the best trails in the area.
Super technical with lots of climbing followed by fast and gnarly descents filled with rocks, roots, some jumps/gaps, and rough terrain. Better have your suspension dialed in or you'll be knocked around quite a bit. Signage kind of sucks and it's easy to get turned around near the end, probably a good idea to bring your phone for the first few times.

For intermediate or advanced riders, this is probably one of the better trails in the area to get warmed up on before heading to the mountains. I don't think there's anything that comes close besides San Lee.
Make sure to bring your big boy climbing pants, and plenty of water. BY FAR the toughest trail in the triangle IMO. Technicality is probably on par with San Lee, but this trail is so much more physically demanding. 1,100ft of elevation gain over 9.5 miles kicked my butt. Harris lake is roughly the same distance with 200ft of elevation gain to put that in perspective. Not only that, but a lot of the climbs are very technical, making it even tougher. All that said, this trail is a blast. For every climb you endure, you'll be rewarded with a great downhill at some point; not just smooth downhills, but ones with drops, gaps etc. There are rock gardens galore, log crossings plenty of little bend and jumps (even a double or two). Very interesting trail with great scenery to boot. Signage is a absent; It's easy to take a wrong turn in a few places. My only other complaint is that it's on gamelands and we're restricted to Sunday most of the year.
I started riding New Light in 2016 and it has become one of my local favorites. Compared to Pisgah, DuPont, and all the "real" stuff in the western part of our state, NL is a mild warm up at best…but in the context of where we are, NL is more for intermediate riders and up. I would never bring a beginner or someone fresh off a road bike - Harris or Crabby are for those riders. As some sections wash out and wear, it'd be cool to see a few work days announced, but the trails are still fun in their raw state. Best time to hit it in the summer is very early in the morning, btw. NL isn't great on a summer afternoon!
As an older rider (71 Y.O.), I really like New Light. It reminds me of how trails were in the 90's. It's got some hard up and fun downs and some rocks and logs for variety. I think that the whole loop is probably one of the most challenging rides in the Raleigh area. The parking is tight, there were at least twenty cars there when I went yesterday. This is probably because it is only open on Sundays until May 1st., then it might thin out. There apparently is a fun ride every Sun. at 9am called "Dirt Church".
Rode this trail for the first time on 7-17-21. High humidity and about 85 degrees when our group got started. I quickly found out that I should have waited for cooler weather. This trail is tough! The hills are killer and they don't stop. The down hills are awesome but are still pretty technical with small drops, rocks, and roots so even then you don't get much a of a break. Even though I had to stop a few times to keep from losing my breakfast and walk up a few hills I still really enjoyed the trail. It's by far the hardest trail in the Triangle I've ridden yet.

There are a couple of gap jumps, some pretty cool features, lots of rocks, roots, and awesome scenery by the lake. The flow is good in a few spots but there really isn't much of it. This trail humbled me but I'll be back when it cools off a bit. Then I can't blame the heat on my wimpy performance.
Decent trail for intermediate and above skill level. Make sure your conditioning is up to par if you're doing the whole trail!
Lots love it, but I don't. I love flowy fun trails. Warrior creek is about as challenging a trail as I enjoy, so New Light isn't for me. So many rooty-rocky climbs and so much walking the bike that's it's more like cyclocross than mtbiking. Give it a shot- if you're like me, you'll enjoy telling stories about what a gnarly trail this is. I'd ride this again for no less than $1000. Not fun.
No detailed review given.
No detailed review given.
Show all reviews




"You know right away in mountain biking if you're on or not."
-Alison Sydor