Your source for Mountain Biking in the Triangle

Raleigh-Durham-Chapel Hill
San Lee Park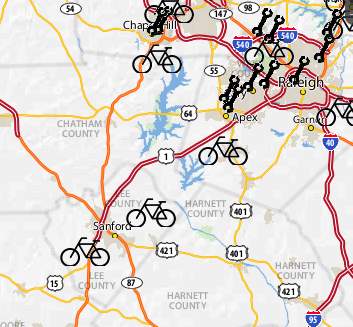 Current Trail Status
Status
When Updated
Who Updated
More Info
Help keep this info accurate by clicking the red bicycle
Gravity Park
closed
04/08 6:42 am
Mommawarrior
Singletrack
open
10/16 8:25 am
edoiron
Average ratings submitted by users
Write a review
User submitted reviews
| | |
| --- | --- |
| Category | Average Rating |
| Overall : | 4.2 / 5.0 based on 56 votes |
| Technical : | 4.1 / 5.0 based on 56 votes |
| Climbing : | 3.4 / 5.0 based on 56 votes |
| Freeride : | 2.4 / 5.0 based on 56 votes |
| Scenery/Wildlife : | 3.3 / 5.0 based on 56 votes |
| Flow : | 3.6 / 5.0 based on 51 votes |
Description: A wide variety of trail terrain and features. See trail options/descriptions below for more.
Location:Sanford
Miles: about 11 miles
Skill Level: Physically fit intermediate-advanced with some expert sections. Not recommended for true beginners.
Official Park Website

Trail options/descriptions
Map
Park Hours
Directions
Rules of the Trail

Trail Options Main trail head is located in RV campground (take chained off gravel road all the way to the top from paved upper parking lot by the lakes). Please allow yourself plenty of time to complete your ride park gates are locked exactly at closing time not at sunset so all winter till April that means 5 PM. Park shuts entrance gate hour before closing time. Park has limited parking capacity and sometimes fills up during prime times. Dont get caught sneaking in the ranger doesnt play.
<![if !supportLists]>1. <![endif]>Short loop this is the first one that novice riders should try enter trail at RV campground & skip Bouldergiest and take first exit point at the bottom of Gold Rush / follow Lake Trail across headwaters bridge around to 300 lake bridge. This will give you an approximately 4 mile ride with no bail out options. Trails in this area are flowing contour trails some parts are rocky with lots of roots, some log crossings and a hand full of cool berms. Part of this trail is tight single track with some moderate climbing and is best suited for novice to advanced riders.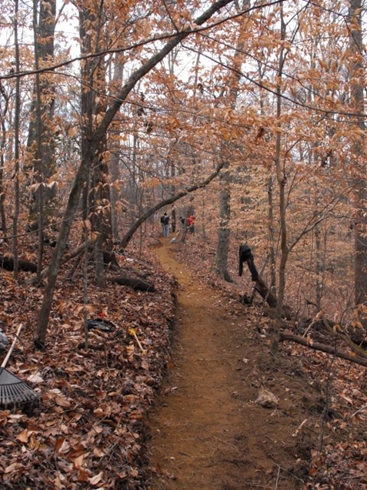 <![if !supportLists]>2. <![endif]>Front Half Varies from 5 to 6 miles depending on whether you ride or bypass the tech sections. Our biggest rock features live in this part of the trail system Bouldergiest / Ledges / Gauntlet / Free Fall - all have bypasses for the scared. Exit at Exit Point #2 (half way point) if you have had enough or it near closing time.
<![if !supportLists]>3. <![endif]>Second Half Jungle starts the second half at exit point 2. From the upper parking lot, take 300 bridge between upper and lower lake use extreme caution while crossing bridge and yield to fishermen & foot traffic walk if necessary. Keep going straight at the end of the bridge onto the bike trail. The second half features some of our tightest roughest single-track and our highest ridges. It is also home to our newest machine cut marvels including .3 mile Mega Jump a cross between downhill course and dirt jumps / Drop Zone / Six Pack / Lizard Lick / Dragons Tail are all new cool bermed out machine cut stuff. The old favorites are still there - Rock Nest Monster / San Lee Slick Rock / Charlies Mountain / Twin Peaks. We see a developing trend of people coming out just to ride the second half so they can focus on Mega Jump and the rest of the bermed out machine cut stuff. From the 300 bridge you are committed to ride at minimum almost 5 miles before you get to the first exit point Exit #3 but if you made it that far I would stick it out another .7 mile and ride Dragons Tail the cool new exit section.
Other Park Features Bring the whole family while you ride they can enjoy this great park. Brand new playground / plenty of picnic tables / fishing / hiking / visit the nature center with a great variety of snakes and raptures. In season they have paddle boats & kayaks plus a year round RV campground and a seasonal tent campground.
<![if !vml]><![endif]> Mega Jump the new crown jewel of the parks trail system it consists of thee - one tenth mile downhill legs adding something previously missing from the trail system > Jumps really big jumps / table tops / step downs / drop offs / pump rollers / oh did I say berms very big berms. Mega Jump is so cool we built it so you can reride it as many times as you please by taking a short little connector trail back to the top. I have rated it as black diamond and it is if you big ring it up to full jumping speed but if you ride it slow you can roll it easy bike shop owners 5 year old rode it so dont be scared.
Drop Zone we rearranged a few of our plentiful boulders with the help of the powerful Kubota hydraulics to create two big drops embedded into a once plain hill side. Stay left for smaller sixer drops stay right for wheel swallowing niner drops. After completing the drops hold on for a massive S shaped berm.
Six Pack Our coolest berm section, a sweet combination of 6 berms / Us and 90s / the Gs will pin you to your bike accelerating you into a big exit jump.
Lizard Lick we replaced the straight up climb after the last big creek crossing with a deeply bench cut contour following zigzag up to the tent campground. This new section features a black diamond solid rock slab (wall) to climb. Dont fall off - below is a not so soft rocky hiking trail to land on. Non experts can stay right to take a cool but tight single track switchback to bypass the Lizard Lick slab.
Dragons Tail is located after our super tuff gravel climb near the end of the trail system. I replaced the old straight down fall line exit trail with a bermed out contour hugging big ring wonder. This section starts with a 120 long triple berm that will wow you. I wanted you to finish your ride with a giant smile as you carve slope style down through a ravine having wall to wall fun as a final reward for completing the San Lee challenge.
<![if !vml]><![endif]>The Gorge I did not forget the front side tree cutters on boarding property forced us to redesign launch pad and front side flow to fix some property line miscalculations. What looked to be a disaster turned into a blessing! The massive ravine bordering Bouldergiest now is home to one very sweet hand built, deep cut bench forming a narrow single-track trail zigzagging up the side of the gorge ravine way cool. George / Steven / John and the Storm Racing team hand carved this baby right out of the ravine side wall. Oh it starts with a new rock strewn creek crossing.
Park Hours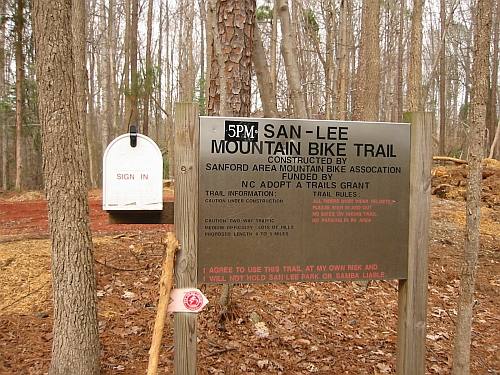 November-March
Monday-Sunday 8:00 am to 5:00 pm

April
Monday-Sunday 8:00 am to 7:00 pm

May-August
Monday-Sunday 8:00 am to 8:00 pm

September
Monday-Sunday 8:00 am to 7:00 pm

October
Monday-Sunday 8:00 am to 6:00 pm

San-Lee Park is Closed:
New Years Day Friday, January 1, 2010
Thanksgiving -- Thursday & Friday, November 25th, & 26th, 2010
Christmas Friday, & Saturday, December 24th & 25th Sunday& Monday December 26th, & 27th, 2010

Directions:
San Lee Park is located in Sandord on the east side of town very close to the US-421 bypass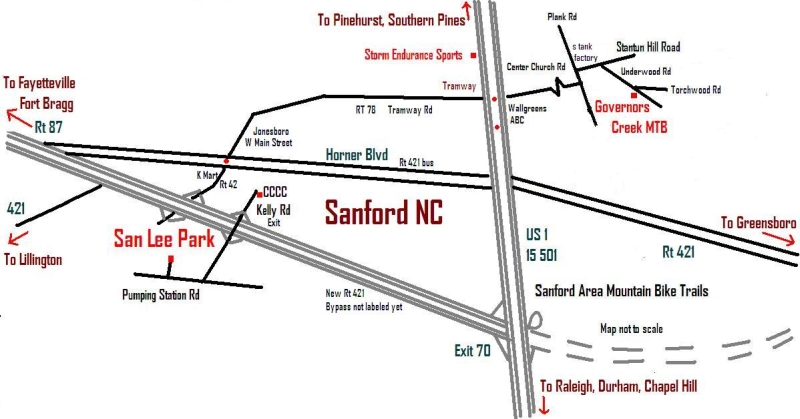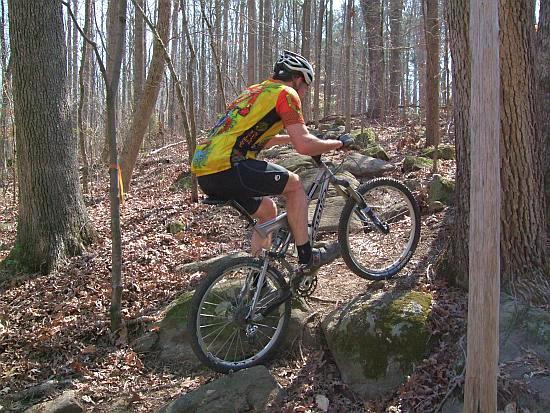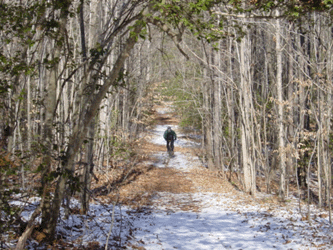 Take 421 South into Sanford.
Exit onto the new Sanford bypass hwy Southeast (exit #70.)
After ~4 miles, exit on Kelly Rd, turn left.
1 mile later, Kelly Rd T intersects with Pumping Station Road.
Turn right. Sanlee park is 1/2 miles on the right side of the road.
Turn into San Lee Park. Go to the top of the hill to park.
The ride starts up the gravel road from this parking area.
Night riding is not allowed here except for organized group rides.
Driving Directions via Yahoo

All riders must wear a helmet
Riders should sign in at the upper trail head prior to riding
Do not modify the trail
Allow time to finish outings before the park closes
It is recommended to ride with someone else
Ride only on officially marked trails
Review San Lee Park trail
Rules, guidelines, and definitions for our TriangleMTB.com trail reviews

The trail reviews should be reviews based on first hand knowledge. If you have never ridden the trail, then ride it before reviewing it.
Obviously, the ratings and reviews should be just that, not big discussions, stuff for sale, or chit chat.
Ratings should be made relative to the other trails in the greater triangle area of North Carolina (listed on our review page). For example, the "Technical" difficulty rating should be relative to the most technical trail listed on our review page.
There should be no references to other reviews in your review (eg. you should not argue or state disagreement with other reviews).
No profanity or vulgar words or context.
Keep in mind, these reviews are opinions only. One mans pleasure is another mans pain. Take the reviews with a grain of salt.
Please report inappropriate reviews using the link that appears beneath the rating summary of each review.
You must be logged into our forum to submit a trail review.
San Lee Park trail has been reviewed 56 times by our trianglemtb.com guests.
Exactly what a down hill experience should be. Non stop fun. Plenty of down grade, table top jumps and wide berms. Then just enough climbing for a great workout.

Expert, intermediate and novice riders will all enjoy the trails.

My only recommendation is with regard to the mega jump section. The jump face is great. The landing is too short. I regularly over jumped it. And not at high speed. The landing lip is fine. The back side of the jump just needs a longer and lower grade slope. To make the entire section perfect, use the dirt from the jump in front of the berm for the back side of mega jump and allow expert riders to carry more speed into the berm. The exit table jump will probably need adjusting to be a little longer as well. I'd volunteer time and a mini ex to do the job!

Very nice park. Easy to find. I highly recommend to all skill levels.
Well maintained jumps, great progression for beginners or warming up before a trip to a lift access park. . I've been coming for a year and I rarely get tired of it. There's 6 trails only a couple minutes long but for the area it's expected. Pictures can be seen on their Facebook. Beats sketchy bandit jump trails. Only thing I'd suggest is to be safe, seen a few people get bucked or going OTB from carelessness

Haven't spent much time on the single track or pump track but with the amount of people that go I'd assume it's sweet. This is a review of only the gravity park section and in comparison to the other legal trails in the area and triangleMTB.. don't go expecting a crankworx setup
singletrack portion of the park is pretty great; nice flowy downhills and some plunging whoops. There are some super rocky sections that would make the folks who love New Light say "Dang!". There is a spot at the bottom of a crazy downhill that looks like something out of Jurassic Park, so points for scenery. Hit the gravity park section after nine grueling 95-degree miles. Mistake. The gravity park is the reason I'll return. SO FUN! Berms and whoops and jumps and fast. Had a great time.
Great set of legit trails. Plenty of technical climbing and decending with a few flowy links to keep the smiles up. There's not a lot of bail out, so plan your risk accordingly. The trails are well marked 'DANGER DROP' and such so pay attention. Well worth your time.
No detailed review given.
Overall, my new "local" favorite (sampled ~75% of T'MTB list plus a few bandits). Greatest volume of rock gardens and jump line content I know of. Seems very water-resistant (or maintained to appear so). While some of the features were not beginner friendly, they tended to be well marked alternate routes. Not so "naturally beautiful" as New Light, but that also means it is "unnaturally fun" and contrived to spend your elevation wisely and pack in extra mileage. I don't understand how it scores low on "freeride" with so much hang time? It is pretty much one-way with one main loop, so unlike Crabtree, you can't invent 100 different routes, and therefore you can also spend your time riding instead of planning/navigating 100 potential routes. I did miss one turn where the sign said "XC Race", but generally I appreciated clear arrows for where you "should" go. Thank you trail builders!
the Single track is getting even better I really recommend if you looking for a nice place to ride San lee it is,you won't be disappointed...
You won't find anything better than this in the area. well maintained, challenging, lots of different features. Not a trail for beginners.
Love this trail. Easily the best I've ridden in the area. And it keeps getting better. Not sure I'll ever ride the Gauntlet without dabbing at least once, Bouldergeist has introduced me to the creek below it on more than one occasion, and FreeFall is well named, but I love the challenges this trail presents. In between the technical stretches are some areas with really good flow. The Gravity Park is amazing as well. Not for beginners, but an ambitious intermediate can have a great time here. No huge climbs if you're into heaving up a lung, but to me that is a good thing.
Wow! Pics and videos online don't do justice to how technical this trail really is. Just wow -
Show all reviews