Your source for Mountain Biking in the Triangle

Raleigh-Durham-Chapel Hill
Carolina Outdoor Education Center
Average ratings submitted by users
Write a review
User submitted reviews
| | |
| --- | --- |
| Category | Average Rating |
| Overall : | 4.0 / 5.0 based on 5 votes |
| Technical : | 2.4 / 5.0 based on 5 votes |
| Climbing : | 2.8 / 5.0 based on 5 votes |
| Freeride : | 1.6 / 5.0 based on 5 votes |
| Scenery/Wildlife : | 1.8 / 5.0 based on 5 votes |
| Flow : | 3.6 / 5.0 based on 5 votes |
Description
Location: UNC Outdoor Education Center
Miles: 4 miles, with a little more to come
Skill Level: Beginner to advanced. Single track, all dirt surface with a wide variety of features including: berms, rollers, doubles, drops, gap jumps and rock features

Directions/Parking
Park Hours and Fees
Rules of the Trail
Trail Map

The multi-use trails were dreamed up by the Carolina Adventures staff (Jason Halsey, David Rogers and Russell Hobart). As lovers of the outdoors and mountain bikers (at least two of them), they wanted to create more outdoor options for UNC students and the Carolina community. Having been impressed by the quality and environmental sustainability of other TORC projects, they contacted David Houskeeper (then President of TORC) and began wading through the very thorough university approval process. More than three years later when the trails were finally being approved, the start-up trail-building company, Trail Science, came in to harness the energy of the local mountain biking community and make the dream a reality.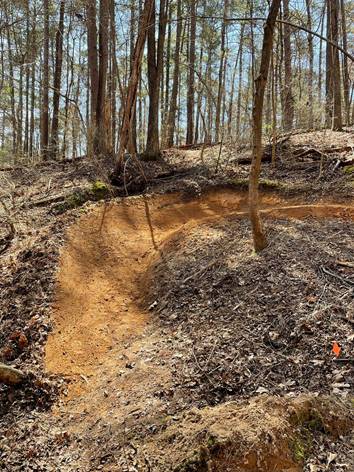 Shagbark Loop
This short trail packs a ton of punch. It has the attention to detail of a pump track, the adrenaline of a gravity park, and the natural beauty of a cross country trail. Coming up to the pond, you slowly slice your way up the side of the hill. Once reach the ivy-thick summit, the trail takes off down hill through high, sculpted berms that maintain your speed as you head back up hill. The next 0.25 miles are fast and big with large gap-jumps and huge drops. Each feature offers a left side ride-around for non-experts. The trail finishes up at the Quail Hill Loop, which can be taken back up hill for another run.
Quaill Hill Loop
The trail starts off by an information booth near the General Admission parking lot at UNC. Head off along the edge of the field. Be mindful of disc golf players as one of their holes lines the field. Soon you tuck under a bridge and continue along, looking left for a opening in the thick forest. Cut across on the bridge and head uphill along the fence line, where you pass the finish and a connector with the start of the Shagbark Loop. Eventually, you pop out into an open field which hosts another disc golf hole. Stay left hugging the fence, where you re-enter the forest. From here, the trail curves north and drops down toward the creek. After passing through pine forest, you cross a bridge and reconnect with the beginning of the trail.
Sticks N' Stones
From the Shagbark Loop, first look out for disc-golfers. Head across the field, staying just right of two large cedar trees. Once you reach the forest's edge, turn left along the tree line before entering the forest. You begin quickly coming down into a massive berm and continuing on through some rollers. Cruise through some mature forest that is dotted with jumps. After touching the St Thomas More Connector, you roll down through the forest, hitting some big jumps before coming to another big berm before cutting through the lowlands. Switchback your way up through some new forest before crossing the disc golf cross again. From here, the trail takes on the feel of a gravity park. You quickly gain speed through a series of gap jumps that can easily be bypassed on the left. These lead into a huge drop that can be taken slowly or can be launched like a space shuttle. After the big jump, the trail finishes off connecting to the Quail Hill Loop.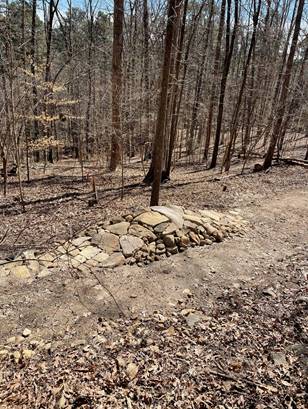 Parking for these trails is complicated. UNC parking officials are remorseless and relentless. There are multiple entrance points and a few parking areas.
The only official parking option is a pay lot on at the Raleigh Road Lot, South Rd, Chapel Hill, NC 27514. From here your will need to cross Raleigh Road on Country Club Road. Pass Ridge Road and then Laurel Hill Road. Soon you will come to the Outdoor Education Center driveway where you take a right onto the property. If you make it to the LDS church parking lot, you have gone too far. Once you are at the Outdoor Education Center there are multiple kiosks with maps to orient yourself.
The second parking option is at St Thomas More Church - 940 Carmichael St, Chapel Hill, NC 27514. Parking is available near the trailhead except during services- Saturday: 5-7pm Sunday: 8am-2:30pm. When you enter the church property you will find the trail entrance to the right of the vegetable garden if you face the forest. A kiosk with a map can be found a short distance past the entrance of the trail.
Driving Directions via Google

Park Hours
The trails are open dawn until dusk, 365 days a year, weather permitting.
All riders must wear a helmet.
Be aware and considerate of other users.
Leave No Trace. Please don't litter. Preserve what's here for the benefit of future users! Trees, brush & grasses are not to be cut, painted, scarred, harvested or otherwise damaged.
No New Trails are to be blazed, cut or otherwise established. Unapproved structures & stunt features will be removed.
Signs, Advertisements or Notices will be removed. Unauthorized material can be claimed at the Land Management & Trail Information Office.
Don't Block The Gates - The Forest Road network is for emergency use & land management operations.
No Motorized Vehicles - Motor vehicles (cars, trucks, motorcycles, all-terrain, off-road & utility vehicles) are not allowed in the Forest.
Trail Courtesies - Bikers must be aware of hikers & joggers. Hikers & joggers using bike trails must yield right-of-way to bikers.
Pets MUST be leashed. It's the law! Please clean up after your pet.
No Alcohol - Possession or consumption of alcoholic beverages is not allowed in the Forest.
This Area Is An Ecological & Wildlife Preserve. Hunting, trapping, fishing & gathering activities are not allowed. The removal or destruction of any object (animal, rock or artifact) is prohibited and is considered vandalism.
Camping is not permitted in the Forest.
No Fires or fireworks are allowed in the Forest.
Firearms are prohibited in the Forest, including air rifles & paint guns.


This trail is not open for night riding except under organized night ride events coordinated with cycling clubs and park staff. Stay tuned to this site for upcoming night rides.

Review Carolina OEC trail
Rules, guidelines, and definitions for our TriangleMTB.com trail reviews

The trail reviews should be reviews based on first hand knowledge. If you have never ridden the trail, then ride it before reviewing it.
Obviously, the ratings and reviews should be just that, not big discussions, stuff for sale, or chit chat.
Ratings should be made relative to the other trails in the greater triangle area of North Carolina (listed on our review page). For example, the "Technical" difficulty rating should be relative to the most technical trail listed on our review page.
There should be no references to other reviews in your review (eg. you should not argue or state disagreement with other reviews).
No profanity or vulgar words or context.
Keep in mind, these reviews are opinions only. One mans pleasure is another mans pain. Take the reviews with a grain of salt.
Please report inappropriate reviews using the link that appears beneath the rating summary of each review.
You must be logged into our forum to submit a trail review.
Carolina OEC trail has been reviewed 5 times by our trianglemtb.com guests.
Just frustrating how little you get fit that much money
Pretty fun little trail. It's not for XC weenies who want to grind out miles but it's great if you just want to have some fun. The two main trails both have some longer downhill jump lines and berms. The jumps aren't huge but are fun enough and there's a couple gaps to hit as well. Both of them have return line options so you can session them over and over.

As far as parking, it *might* have changed since this trail was originally posted on here. The UNC "tag" parking lot has signs saying tags are only required during week days. I had no problem parking in the lot right at the top of the tennis courts.
This trail packs a punch in a small package. Not a lot of miles but there's plenty to keep you busy. Some hills are steep but not long and usually are followed by a nice flowy jumpy downhill. I didn't hit all the jumps but all can be bypassed or rolled. Some jumps are right out of bermed corners which require you carry a fair amount of speed. No drops, no skinnys, no rock gardens, no creek crossings but lots of air time if thats what you like. Highly suggest parking at the St. Thomas Moore church to avoid the crazy uphill climb to the OEC lot off Ledge Lane when you're done. All in all a very fun trail with lots of fun challenges. I'll be back....
the flow is some of the best in the triangle with a few stunts mixed in, only a few trails but trail science has made some truly amazing trails with more to come ;)
This trail is unique for our area for sure. There are not a lot of miles to hit, but the jumps here are huge. The biggest gap has got to be around 10 ft, so be careful. The other gaps are spread out and plentiful. Most of them are pretty low risk, but they are gaps so there's potential for some nasty results if you aren't prepared. It's a fun place to ride if you want to play around like you're at a bike park. The trails are very well done and thought out. Great flow. You'd have to do a few loops to get many miles in but it's a fun playground.