Your source for Mountain Biking in the Triangle

Raleigh-Durham-Chapel Hill
Uwharrie Trails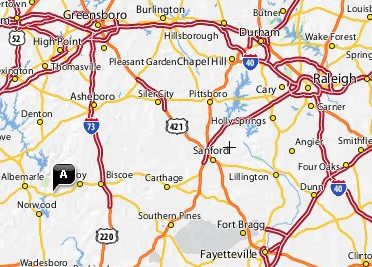 Description
Location: Troy, NC on NC 24
Miles: Depending on the route, you can get over 20 miles
Skill Level: Intermediate
Contact: Uwharrie Park Service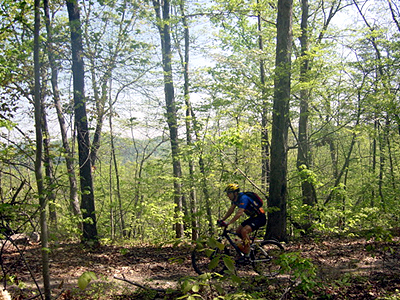 Trail Map

Park Hours and Fees
No fees and open 24 hours

Directions
The 'Wood Run' trail system starts at the parking area/entrance to the Uwharrie National Forest on Hwy 24/27, about 10 miles east of Albemarle, NC. There are standard USFS Info Boards that have area and trail maps at this trailhead. A map is a recommended item unless you know the area well. A map is also available at the web link listed below. NOTE - both trails start EXACTLY 2.60 miles down a gated Forest Service road. The trails are indicated by flexible fiberglass 'wands'.
Driving Directions via Google

Rules of the Trail
The Uwharrie and Dutchmen's Creek hiking trails are not open to mountain bikes. These trails are blazed with single white and yellow paint blazes. Please respect this rule and only ride on the Wood Run Mountain Bike Trails. These trails will be marked with the double, white paint blazes. Look for signs with the UMBA symbol, signifying bike and hiker use.

Keyauwee
Definitely the best trail out here. It has some good climbs, decent downhills and great creek crossings. Can be a little muddy in spots and rocky in others. If you ride one trail here, it's this one. Keyauwee is named for the last band of Native Americans to live in the Uwharrie Lakes Region.

SuperTree
A mix of single and double track with a couple climbs. When mixed with Keyauwee, it makes for a good day of riding.
Skyrock
This trail is closed with no current plans to reopen it.


Night riding is allowed.