Your source for Mountain Biking in the Triangle

Raleigh-Durham-Chapel Hill
The Williamson Preserve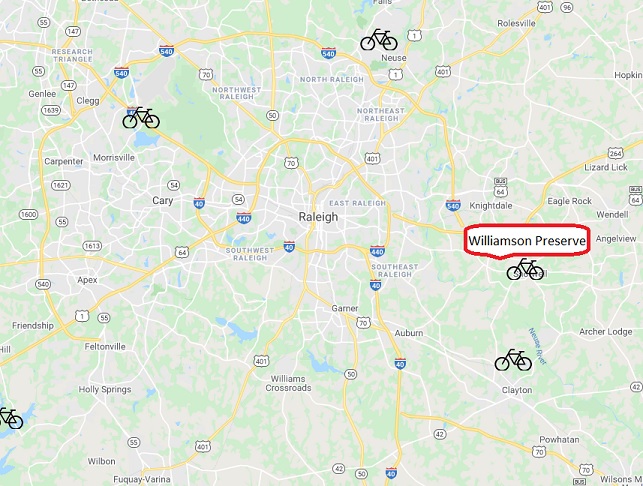 Current Trail Status
Status
When Updated
Who Updated
More Info
Help keep this info accurate by clicking the red bicycle
open
09/14 9:13 pm
BIVENATOR
Average ratings submitted by users
Write a review
User submitted reviews
| | |
| --- | --- |
| Category | Average Rating |
| Overall : | 3.9 / 5.0 based on 14 votes |
| Technical : | 1.3 / 5.0 based on 14 votes |
| Climbing : | 1.6 / 5.0 based on 14 votes |
| Freeride : | 1.1 / 5.0 based on 14 votes |
| Scenery/Wildlife : | 2.9 / 5.0 based on 14 votes |
| Flow : | 4.0 / 5.0 based on 14 votes |
Description
Location: 4409 Mial Plantation Rd, Raleigh, NC 27610
Also reachable from the Neuse River Greenway between mile markers 27 and 28.
Miles: 7.5
Skill Level: Beginner/Intermediate
Travel Direction: This trail is unidrectional by day. Sunday, Monday, Tuesday, and Wednesday bikers turn left at all direction signs. Thursday, Friday, and Saturday, bikers turn right at all direction signs.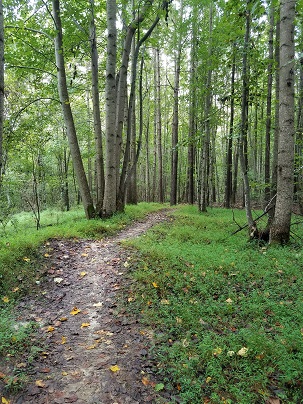 Trail Map
Directions
Park Hours and Fees
Rules of the Trail

There are currently more than 9 miles of walking and biking trails on the property, with approximately 7.5 miles being multi-use singletrack. A series of 5 trails – Walnut Hill Way, Pine Warbler, Little Falls, Long Leaf, and Salamander take riders on a flowy, high speed adventure down to the Neuse River Connector and back. Riders can continue down the Neuse River Connector to the Neuse River Greenway.

The trails grow increasingly difficult as they get further from the Mial Plantation trailhead. The trails are built end-to-end, allowing riders a quicker exit, or a return visit to a previous trailhead. Each loop offers its own character and set of challenges to mountain bikers. Riders can expect to encounter the following: small rock gardens, boulders, gullies and stream crossings, berms, grade reversals, log crossings, small jumps, wood bridges, and more.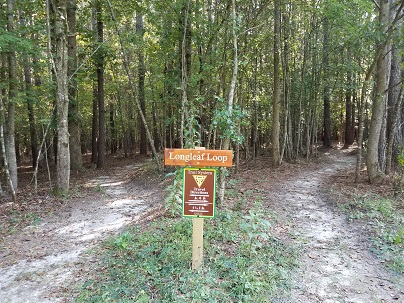 Directions
The official trailhead is located off the gravel section of Mial Plantation Road, between Major Slade and Smithfield Roads at 4409 Mial Plantation Rd. There is a small gravel lot for parking. Do not park on the road!! There are several kiosks with trail maps at the parking lot. A closed gate indicates the trail is closed for riding.
Overflow Parking
If the main parking lot is full, do not park on the dirt road!! Please park at 6090 Mial Plantation Road, Raleigh NC 27610. From this lot, ride south along the Neuse River Greenway (turn left from the parking lot). The trail may be accessed between mile markers 27 and 28. Look for the information kiosk and gate. A closed gate indicates the trail is closed for riding.
Driving Directions via Google
Fees
No fee, but please consider donating or becoming a member of Triangle Land Conservancy.
The trails are closed to bike riding when wet.
The trail direction changes throughout the week and depends on activity. Follow proper trail directions as indicated by the signs at each trailhead.

Sunday through Wednesday, bikers should turn left at most trail intersections. Thursday through Saturday, bikers should turn right.

Obey all signs.
Ride or walk on the right side of the trail.
Helmets are required for all riders.
Bicyclists must ride single file.
Stop only on the shoulder of the trail.
Do not cut the trail.
No changes may be made to the trail without prior authorization from Triangle Land Conservancy.
Give an audible warning before passing others. Announce yourself and slow down to pass.
Ride at a responsible, controlled speed.
At this time, e-bikes are not permitted.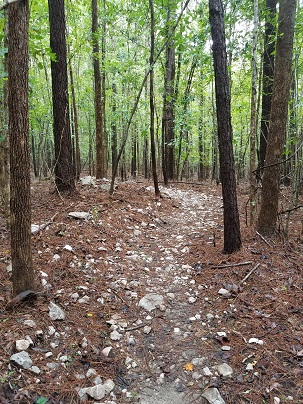 Prohibited Activities and Items:
Littering
Off-Trail Riding and Hiking
Horseback Riding (no horses are allowed at the preserve)
Racing on bikes
Smoking
Bringing or Consuming Alcohol
Collecting Plants and Wildlife
Hunting
Feeding Wildlife or Livestock
Approaching or Handling of Livestock or Farm Equipment
Firearms
Swimming
Tents and/or Camping
Using Drones
Metal Detecting
Commercial Activity of any kind
Motorized vehicles must be parked in the parking lot and may not be used anywhere other than the parking lot. Vehicles parked along the road are subject to removal.
At this time, e-bikes are not permitted.
No overnight parking
Pets must be leashed at all times with no exception, and all waste must be removed from the preserve.
Archaeology, Salvage, and Physical Property: Any and all ruins or artifacts found in the preserve are the property of Triangle Land Conservancy and may not be removed without consent.
Geocaching: Geocache placements must be permitted by TLC.


This trail is not open for night riding except under organized night ride events coordinated with cycling clubs and park staff. Stay tuned to this site for upcoming night rides.

Review Williamson Preserve trail
Rules, guidelines, and definitions for our TriangleMTB.com trail reviews

The trail reviews should be reviews based on first hand knowledge. If you have never ridden the trail, then ride it before reviewing it.
Obviously, the ratings and reviews should be just that, not big discussions, stuff for sale, or chit chat.
Ratings should be made relative to the other trails in the greater triangle area of North Carolina (listed on our review page). For example, the "Technical" difficulty rating should be relative to the most technical trail listed on our review page.
There should be no references to other reviews in your review (eg. you should not argue or state disagreement with other reviews).
No profanity or vulgar words or context.
Keep in mind, these reviews are opinions only. One mans pleasure is another mans pain. Take the reviews with a grain of salt.
Please report inappropriate reviews using the link that appears beneath the rating summary of each review.
You must be logged into our forum to submit a trail review.
Williamson Preserve trail has been reviewed 14 times by our trianglemtb.com guests.
I am a new mtb rider and find Williamson to be beautiful, mostly quiet and a very well rounded trail for anyone to get out of it what they want. I truly appreciate the one direction of travel and wish ALL trails would follow this. Most people on foot are respectful of those on wheels are yield. This trail is known for being very flowy and I'd say that I agree. I mainly wanted to write this review as a thanks to those that built the trail and preserved the land, making it available to those of us that use it for our pleasure.
Really smooth and flowy! Not challenging by any means. I took my father-in-law on his second mtb ride ever and we rode all 8 miles. This is an excellent location to sprint and build up fundamental skills. I'm looking forward to coming back and working on my speed. Another time I'll bring back my 6 year old for her first ride on a mtb trail!
A great addition to the Triangle trail system! The trails are very smooth compared to others in the area. There's lots of short assents and descents. Having bikers all go one direction and walkers go the opposite helps with the flow very much. If you're a beginner, you'll like the smoother, non-technical nature of most of the course. If you're more advanced, the trail flows quite well, and you can gather a good bit of speed. I suggest going on one of the days where bikers stay left at the splits, as the trail flows the best in this direction from what I have experienced, although both are very pleasant.
Nice trail. Lots of opportunity to practice and improve your turning skills. Very twisty and windy, just at the edge of being too tight, but not too tight.

The kind of place you know you can go faster if you work on your turning technique, and go a bit outside your comfort zone in the many curves.

Extra tricky when the ground is covered with slippery pin needles.

Surface is very smooth, no roots. Few rocks. No tech obstacles excepts the turns and pine needles.

As a bonus, its close to Legend, so hit that when you are done here.
I REALLY enjoyed this trail. I've named it WAP (WilliAmson Preserve). Twisty, turny, flowy, fun. It's a fast paced 7.5 miles that just pulls you along. Check the trailhead for days and directions to keep oncoming rider conflits to zero. Quite a few hikers but generally polite and yielding, as was I.

Be careful on a few of the bridges as they could use some griptape to offset the wet leaves and sand that at speed are slickery.

This'll be a hoot at night.
There is flow but due to random sharp turns it took me a couple days to figure it out, plus the direction rotates on different days(IMO right turn days have more flow/speed, esp on the last half). The fact that this trail is close to me, bikers have the right of way, and the decent flow I'll definitely be coming back on days where I want to get some pedal strokes in. There does seem to be some liveliness of the forest as well as far as wildlife and nature. Pretty sweet
Trail is very smooth and beginner friendly. Hard to maintain top-end speed due to some tight, narrow, and loose turns, A great opportunity to learn that slow is smooth and smooth is fast. Also great training spot for cyclocross riders.

Overall great use of natural topography and really liking the directional signage.
Fun, fast and flowy, with a few significant gravity features and a big honkin' boulder to ride up and over if you like. 8 miles of trail not including a .5 mile connector down to the Neuse River Greenway. I got 12 miles without feeling overly repetitive. Fun stuff!
pretty flowy in general with plenty of little whoops and sweeping descents. This is a really chill ride through a sandy pine/oak forest- reminds me of Wilmington a bit; not quite that sandy. These are directional trails that change on alternating days, so you'll have to ride it twice to experience it all. There are a few log crossings (easy), one rock that you can ride down, and a little ramp thingy. Less tech than even Crabtree has. I like it, and will return. This is the most beginner-friendly trail I've ridden around here (San Lee, Harris, Crabtree, Falls Lake, New Light, Brumley). I actually got a great workout here.
This trail is freshly cut and will benefit from being ridden in as it needs to harden. The trail is a good foundation that will develop into a fun system. Flow is great- there are sections of this trail conducive to some serious speed. This being said, there are very few challenging areas and the trail could really benefit from some technical additions to keep advanced riders interested. This trail is best enjoyed on an XC full suspension or a hardtail. I tried this trail on my enduro bike but I had a way better time on my XC. Ride it fast for a challenge.
Show all reviews