Your source for Mountain Biking in the Triangle

Raleigh-Durham-Chapel Hill
The Williamson Preserve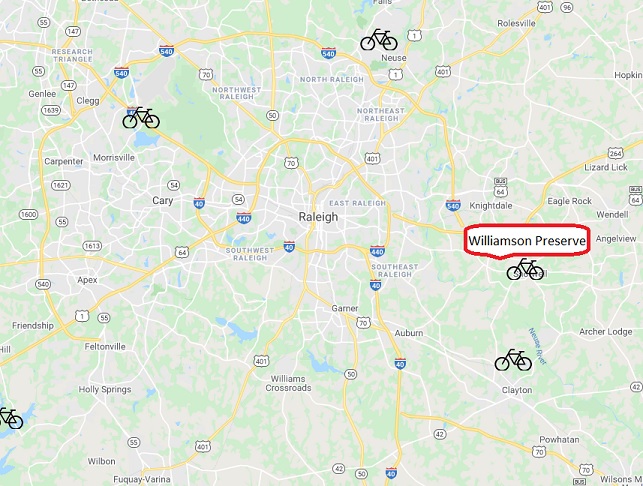 Average ratings submitted by users
Write a review
User submitted reviews
| | |
| --- | --- |
| Category | Average Rating |
| Overall : | 3.7 / 5.0 based on 30 votes |
| Technical : | 1.4 / 5.0 based on 30 votes |
| Climbing : | 1.9 / 5.0 based on 30 votes |
| Freeride : | 1.6 / 5.0 based on 30 votes |
| Scenery/Wildlife : | 3.2 / 5.0 based on 30 votes |
| Flow : | 3.8 / 5.0 based on 30 votes |
Description
Location: 4409 Mial Plantation Rd, Raleigh, NC 27610
Also reachable from the Neuse River Greenway between mile markers 27 and 28.
Miles: 12
Skill Level: Beginner/Intermediate
Travel Direction: This trail is unidrectional by day. Sunday, Monday, Tuesday, and Wednesday bikers turn left at all direction signs. Thursday, Friday, and Saturday, bikers turn right at all direction signs.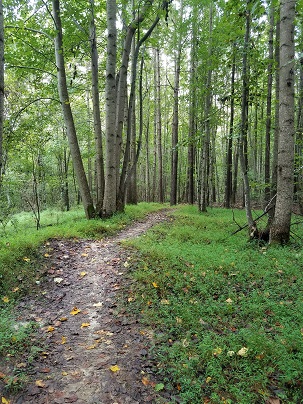 Trail Map
Directions
Park Hours and Fees
Rules of the Trail

There are currently more than 13 miles of walking and biking trails on the property, with approximately 12 miles being multi-use singletrack. A series of 6 trails – Walnut Hill Way, Pine Warbler, Little Falls, Long Leaf, Salamander, and Magnolia Run take riders on a flowy, high speed adventure down to the Neuse River Connector and back. Riders can continue down the Neuse River Connector to the Neuse River Greenway.

The trails grow increasingly difficult as they get further from the Mial Plantation trailhead. The trails are built end-to-end, allowing riders a quicker exit, or a return visit to a previous trailhead. Each loop offers its own character and set of challenges to mountain bikers. Riders can expect to encounter the following: small rock gardens, boulders, gullies and stream crossings, berms, grade reversals, log crossings, small jumps, wood bridges, and more.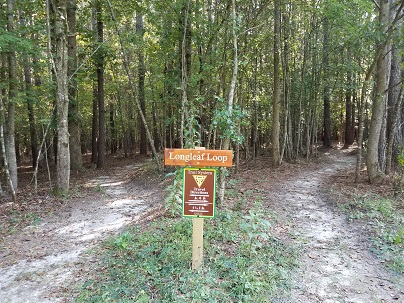 Directions
The official trailhead is located off the gravel section of Mial Plantation Road, between Major Slade and Smithfield Roads at 4409 Mial Plantation Rd. There is a small gravel lot for parking. Do not park on the road!! There are several kiosks with trail maps at the parking lot. A closed gate indicates the trail is closed for riding.
Overflow Parking
If the main parking lot is full, do not park on the dirt road!! Please park at 6090 Mial Plantation Road, Raleigh NC 27610. From this lot, ride south along the Neuse River Greenway (turn left from the parking lot). The trail may be accessed between mile markers 27 and 28. Look for the information kiosk and gate. A closed gate indicates the trail is closed for riding.
Driving Directions via Google
Fees
No fee, but please consider donating or becoming a member of Triangle Land Conservancy.
The trails are closed to bike riding when wet.
The trail direction changes throughout the week and depends on activity. Follow proper trail directions as indicated by the signs at each trailhead.

Sunday through Wednesday, bikers should turn left at most trail intersections. Thursday through Saturday, bikers should turn right.

Obey all signs.
Ride or walk on the right side of the trail.
Helmets are required for all riders.
Bicyclists must ride single file.
Stop only on the shoulder of the trail.
Do not cut the trail.
No changes may be made to the trail without prior authorization from Triangle Land Conservancy.
Give an audible warning before passing others. Announce yourself and slow down to pass.
Ride at a responsible, controlled speed.
At this time, e-bikes are not permitted.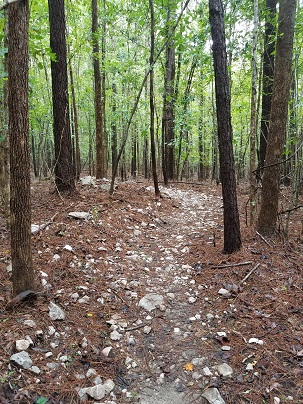 Prohibited Activities and Items:
Littering
Off-Trail Riding and Hiking
Horseback Riding (no horses are allowed at the preserve)
Racing on bikes
Smoking
Bringing or Consuming Alcohol
Collecting Plants and Wildlife
Hunting
Feeding Wildlife or Livestock
Approaching or Handling of Livestock or Farm Equipment
Firearms
Swimming
Tents and/or Camping
Using Drones
Metal Detecting
Commercial Activity of any kind
Motorized vehicles must be parked in the parking lot and may not be used anywhere other than the parking lot. Vehicles parked along the road are subject to removal.
At this time, e-bikes are not permitted.
No overnight parking
Pets must be leashed at all times with no exception, and all waste must be removed from the preserve.
Archaeology, Salvage, and Physical Property: Any and all ruins or artifacts found in the preserve are the property of Triangle Land Conservancy and may not be removed without consent.
Geocaching: Geocache placements must be permitted by TLC.


This trail is not open for night riding except under organized night ride events coordinated with cycling clubs and park staff. Stay tuned to this site for upcoming night rides.

Review Williamson Preserve trail
Rules, guidelines, and definitions for our TriangleMTB.com trail reviews

The trail reviews should be reviews based on first hand knowledge. If you have never ridden the trail, then ride it before reviewing it.
Obviously, the ratings and reviews should be just that, not big discussions, stuff for sale, or chit chat.
Ratings should be made relative to the other trails in the greater triangle area of North Carolina (listed on our review page). For example, the "Technical" difficulty rating should be relative to the most technical trail listed on our review page.
There should be no references to other reviews in your review (eg. you should not argue or state disagreement with other reviews).
No profanity or vulgar words or context.
Keep in mind, these reviews are opinions only. One mans pleasure is another mans pain. Take the reviews with a grain of salt.
Please report inappropriate reviews using the link that appears beneath the rating summary of each review.
You must be logged into our forum to submit a trail review.
Williamson Preserve trail has been reviewed 30 times by our trianglemtb.com guests.
This trail is probably the easiest in the area after Crabtree. It has a lot of flow with not a lot of obstacles, and not ever section of the trail has sharp turns. It is very long if you decide to ride the entire thing, probably over 10 miles. So plan accordingly as it takes me well over an hour and I end up getting more tired than anticipated. Nonetheless this trail is very fun and great if you're looking for a faster ride with nothing too challenging.
This trail is really well made and maintained. It's directional depending on the day of the week so make sure you take the correct route for the day posted. The Magnolia and Lilly loops will make you work so avoid those if you're a beginner. Personally I like them better because they feel like real mountain biking. Good trail overall. One of my favorites in the Triangle by far.
First time riding the trail. Doing the right turns since it's Saturday. I have to be honest, I had low expectations for this trail but I was happily surprised at how much I enjoyed it. The trail was covered in pine straw and leaves so it was a bit slippery but thats all I can complain about. There is definitely enough climbing to get a good workout and enough flow to make it fun. I'd ride here more often if it were closer to home but I'll definitely be back.
Williamson Preserve - Having entered the park using the Greenway Connector, which lets you start at the Salamander Trail. You can ride North on the older trails, which are Salamander, Long Leaf, Pine Warbler & Little Falls. Or you could ride South, on the two newer trails, which are Magnolia and Lilly.

The Northern trails are the better in the park, with more flow, you are able to build up more speed for longer sections and there are more opportunities to carry momentum. These Northern Trails are fun and I will return to ride them again.

The Southern Trails, Magnolia and Lilly are the two trails I liked the least. They were quite a chore to ride. Too often I was given a short downhill only to immediately go into a tight bend with an up-hill, killing all momentum. Magnolia & Lilly would be improved by straightening out the track a bit, not so many tight bends causing you to loop back on yourself, allowing you to carry more speed for longer. Look at the map of Salamander trail compared to Magnolia to see what I mean.

Overall, it is a very nice park, well kept, well signposted, these are beginner friendly single track trails, they are smooth forest floor, very few roots and rocks, no big climbs, no steep descents, a small number of optional wooden features. The Northern Trails are the more fun in the park, Magnolia and Lilly are quite a lot of work with not much payoff for your effort.
I've been riding trails in the triangle for 20 years. This is by far my favorite. It flows so well. If you want super technical and lots of obstacles then go to New Light or Beaver Dam. Reviews like the one below are infuriating given how much hard work has gone into making this trail great. This trail is perfect for getting in miles and flowing fast. It is a great workout and the fact that it is unidirectional makes it superb. thanks to all who work to keep improving this trail.
This trail is a terrible bore, and absolutely worth skipping. I've ridden it a handful of times, and went back today to check out the newer opened sections. The entirety of WP is identical to itself; if you ride 10' of it, you've gotten the experience.

There is no flow to be found. To me, flow is an extended section of trail which allows you to carry speed with very little need to pedal or brake during that section. WP has none of this due to the fact that they over-embrace >90° turns with no berms built to let you carry speed…rather they use loose sand and gravel where berms should be. You can't find any extended flow because you're constantly on the brakes and re-starting your momentum.

There are a few kicker ramps they've put into various spots, but they're extremely limited in usefulness since they're almost exclusively huck-to-flat landings with hard turns and no berms immediately following the landing zones.

They built a few "skinnies", which are nicely constructed, but are built with 2x10"s so they aren't exactly skinny.

Where the trail description says rocks, it means a few randomly scattered piles of river stone which do not require any technique other than pedaling straight through. Where the trail description says stream crossings, it means via wide wooden foot bridges of roughly 3' length; certainly not any stream crossings where you could touch the actual stream.

I'd recommend WP if you're taking your kids trail riding for the first time, enjoy doing nothing but gently pedaling on your bike, or are taking a highly inexperienced rider out. Other than that, Williamson Preserve is no fun whatsoever on a mtb.

I would ride a gravel bike through WP if I were on the greenway there and wanted to throw in a few dirt miles.
updating my previous, they have done a lot more work out there and is awesome. There is enough climbing to get you where you can get some good descents. Biggest problem is all the lose pea gravel around.
What a nice set of trails! The Williamson Preserve may be my favorite area so far.
There are very few roots and rocks which makes for a more enjoyable day out.
I really like the directional trail setup and wish more areas had that requirement.

I thought the trails flowed very well overall, and some sections are quite fun! There are a few randomly placed skinnies and small jumps! Magnolia Run was fun and longer than I expected. The connector trail that goes down to the Neuse River (and paved Greenway) adds the chance for a lot of variety to your trip.
I saw lots of deer, and occasionally could smell the nearby goats and horses.

As for the person who said the trails were just boring, maybe take a break from biking for a while? Or if you want to ride over a ton of roots, might I recommend the West section at Harris Lake County Park, lol.
Today I took a break from the Triangle's rooty, rutty, rocky trails and visited Williamson Preserve. I felt like I was back home on Long Island. This trail is fast, flowy, and smooth in most spots. It's a nice change from my regular rotation and I'll be a regular here.
pretty flowy, good trail for change of pace. You can do some different things.
Show all reviews