Your source for Mountain Biking in the Triangle

Raleigh-Durham-Chapel Hill

| | |
| --- | --- |
| TriangleMTB.com supports TORC, the triangle's largest mountain bike club | |
| | |
| --- | --- |
| What's New | Updated |
| | 01/03/17 |
| | 12/11/16 |
| | 08/23/16 |
| | 11/28/14 |
| | 10/19/14 |
| | 10/07/14 |
| | 02/23/13 |
| | 09/20/11 |
| | 08/06/11 |
| | 06/02/11 |
| | 08/08/10 |
| | 05/08/10 |
| | 12/19/09 |
| | 12/19/09 |
| | 12/05/09 |
| | 07/03/09 |
| | 06/21/09 |
| | 07/01/08 |
| | 03/24/08 |
| | 07/30/05 |
| | |
| | 04/21/04 |
| | 03/22/05 |

Upcoming Events...

See All Events

Current Trail Status
Updated

CLOSED

01/20 9:03 am

OPEN

01/15 9:44 am

OPEN

01/15 12:30 pm

OPEN

01/15 12:30 pm

CLOSED

01/20 12:00 pm

CLOSED

01/20 12:23 pm

CLOSED

01/20 11:58 am

CLOSED

01/20 11:58 am

OPEN

01/15 10:01 am

CLOSED

01/16 7:00 am

CLOSED

01/20 2:52 pm

CLOSED

01/09 2:59 pm

OPEN

01/15 10:00 am

Help keep this info accurate
by clicking the red bicycle

TriangleMTB friends


Greensboro Fat Tire Society
Triangle Spokes Group
Trips For Kids





Lake Crabtree County Park, Huck-a-buck race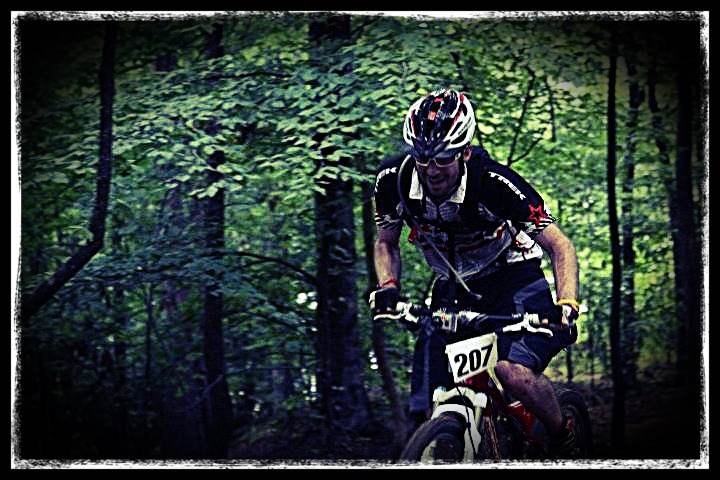 Want to contribute a photo for the TMTB cover?
Please email your pic to
trianglemtb@yahoo.com
or post it in the forum and we might snag it.
Keep the photo submissions coming
Thanks for all your photo submissions.
---
Ride for Choice bike event
Sunday, April 23, 2017
Ride for Choice
Bikes, Beer, and Bratwurst
NCRideforChoice.ppsat.org

We are hosting our 4th annual Ride for Choice biking event Sunday afternoon, April 23, 2017. The ride has grown each year and this past year we had more than 200 riders and raised more than $14,000. We collect feedback each year from our riders and it has been overwhelmingly positive.

We offer two ride lengths- 24 and 54 miles, SAG support, and multiple rest stops. Our routes begin and end in Carrboro and wind through Orange, Alamance, and Chatham counties with one of our rest stops at Haw River Ballroom and another at Maple View Farms. The ride is followed by an after-party with beer and bratwurst. Riders have the option to compete for prizes by securing sponsors/raising money from their friends.

We charge riders $60 for the ride and the after-party and also offer a ride only option for $35. We recruit sponsors to help us cover the costs of putting on the ride, like porto potties, insurance, and food, so that the entrance fees all go to support women's health care. Thousands of North Carolinians rely on Planned Parenthood each year for basic health care, like cancer screenings, birth control, and STD screening and treatment.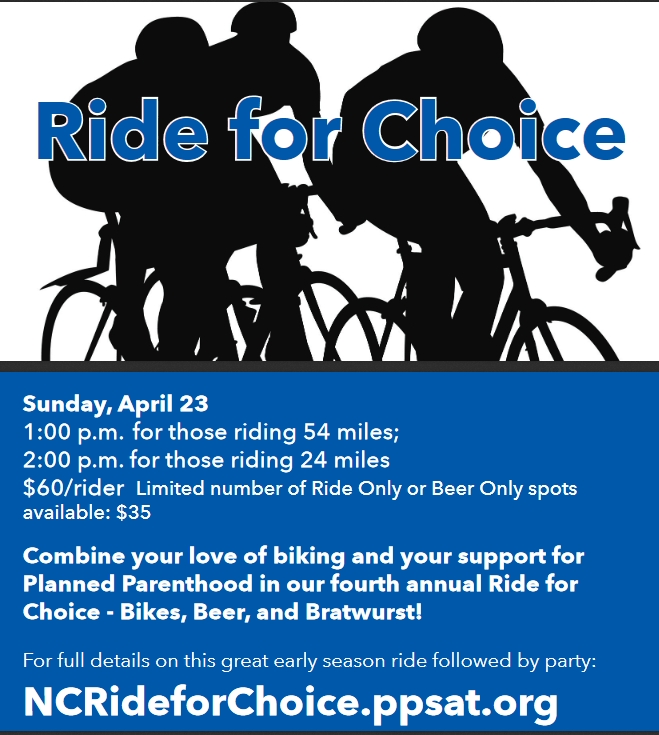 ---
Want to run TriangleMTB.com?
TriangleMTB.com is seeking new management! The primary duty of site management is to serve the local mountain bike community. At times this may be in direct conflict with your personal thoughts, so please take this into consideration. Other responsibilities include paying for the web site and domain name registration, maintaining the site content, growing the site, managing and moderating the forum including applying software updates, responding to email, and other odds and ends. This site is custom html and php so you should have experience with that or at least a strong desire to venture there. If you are interested in taking over TMTB, please email TriangleMTB@yahoo.com Include your experience with web site management and your vision for the future of TMTB under your control. What new things would you like to add to trianglemtb.com? What would you remove? What major changes would you make? This job does not pay but you will have creative control of the entire site but there are a few marching orders I'd like conveyed with the site.

1. The site will remain in operation. In other words you won't shut it down, abandon it, or let the domain name or site lapse.
2. The site will remain free for all people to use. No charging people to use TMTB.
3. Banner advertisements/images and sponsorship images will be kept off the forum. If you sell add space, please keep it out of the forum.
4. If/when you pass the site on to someone else, you do not charge them and these items convey as part of the agreement. You will be getting this site free, so it's only fair you do not sell it yourself!


---
New Trail Maps for Uwharrie and RTP
We now have a new maps for the Wood Run section of Uwharrie and the RTP trails.
New Uwharrie Map.
New RTP Map.
---
New Briar Chapel Map
We now have a new map for the Briar Chapel Trails. This includes the Bennett Mountain and Elevated Trail Design sections as well as reroutes due to construction and other extensions. Although not every turn is signed at B.C., you should be able to use this map and your wits to make a fun route at the Briar Chapel trails.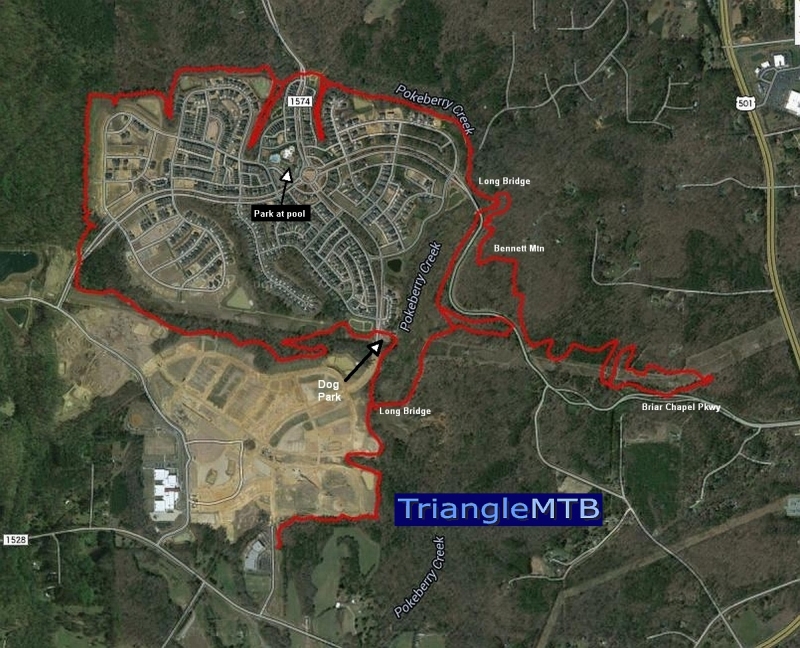 .

---
Save Lake Crabtree County Park Trails
The Urban Land Institute was hired to conduct a property use assessment for the RDU property. Lake Crabtree County Park is part of that property and is leased to Wake County. This study included the Lake Crabtree County Park leased land with recommendations on what types of development. This assessment was done in March and has not changed. In fact the most recent panel report distributed to Wake County this month, has not changed and continues to advise development of the property. The lease has not be signed/renewed and RDU has stated that the lease will not be renewed until they decide what they will do with the property.

We all felt it was time to start gathering more public action, built a web page, wrote up a petition and are ready to write letters to our local government leaders. Please take a look at the following website that was created and lists all the steps we need everyone to perform:

http://www.savethecrab.org

Please share this information to all who may be interested in this subject.

---
Updated Lake Crabtree map
We have a newly updated map for Lake Crabtree Country Park. This includes trail reroutes which have taken place up to 09/20/2011. Here is the new map for Lake Crabtree County Park.
---
Updated New Light map
The trail map for the New Light trails has (finally) been updated to include the newer trail sections and the major double track sections have been drawn in. The updated map is available in two sizes. Here are links to the smaller map and the larger map.
Updated Harris Park map
The map for the Harris Park trail system has also been udpated to make it clearer. The previous version had marked trails which appeard to intersect but in reality they just get close to each other. Here is the link to the updated Harris Park map. Note that the black diamond section on the advanced loop has many small pieces and it's not feasible to try to capture them all.
---
SVMBA needs your help
If you've ridden Anglers, please share your thoughts with us through the websites listed below.

Please post a review of the Angler's Ridge trails on this site as well.
We will be meeting with City Council soon to discuss the economic impact that Virginia's 5th highest ranked trail system has had on our community over the past 7 years. Important points to include ...

the time and mileage you drive "roundtrip" to visit Danville, how many visits you've made in the past 6/12 months, what type of rider you are, do you bring your family, how are the trails at Anglers different from your "local" trails, what do you think about our races and other events, etc.

Our City Council and Economic Development members just need more insight from users as to the true "value" of our trail system. They don't hate trails ... they just simply don't see the "diamond" in the rough. The misnomer of "mountain bike" confuses them because they simply don't believe there are any "mountains" anywhere near Danville. Part of our presentation will be to discuss the "broad" use of the term "mountain" to describe "natural surface" trail riding and running. Your comments WILL be included in our presentation ... tentatively scheduled for January or February of 2010.

Post your reviews at the following websites ...

Singletracks.com ...
http://www.singletracks.com/php/trail.php?id=1468

MTBR.com ...
http://trails.mtbr.com/cat/united-states-trails/trails-virginia/trail/PRD_323599_4585crx.aspx

or e-mail them directly to ...
SVMBAinfo@comcast.net

Thanks for your support,

Chris Tompkins
SVMBA
---
Rainfall Map Overlay
We are pleased to release a new feature to our Triangle Area Map... USGS rainfall overlay. Especially in the winter, a lot of us turn amateur weather men/women and scour various online displays of rainfall trying to either justify riding or actually find a place to ride that hasn't had much rain. All wet trail politics aside, I think this may be useful with ride planning. Note: Rainfall data is based on USGS rain gage data and is provided for informational purposes only. The open/closed status of a trail rests with its management not this data. The authority of land and trail managers must be respected.

The map below shows an overlay of USGS rainfall in orange labels. Hovering your mouse over a rain label will popup the rainfall history covering from 2 hours to 7 days. Links above the map allow you to choose which timeframe interval you wish to display on the orange labels (so you don't have to hover over each label if you want a different timeframe than the default). This feature works in standard web browsers such as Internet Explorer, FireFox, Chrome, etc. but it's up to the manufacturers of mobile devices to make them work.
Static capture for illustration purposes only! Click the image below or here to see the real Triangle Area Map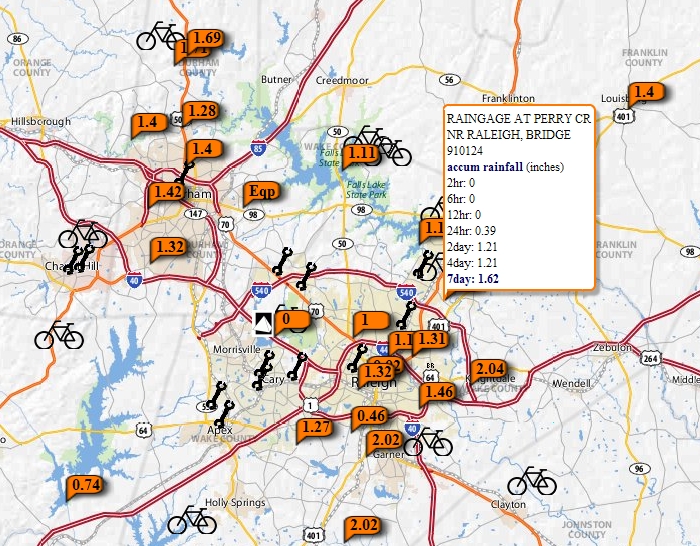 ---
Dirtvictim Invention
Our old pal Dirtvictim has an invention called the HexY3 to showcase. See the youtube video for details and dirtvictim.com for ordering information.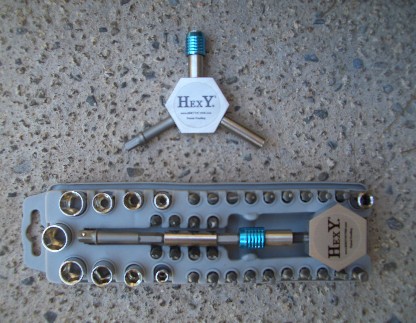 ---
RTP Trail
There's a new trail on the block. It's simply called The RTP Trail and although is short in length, people are making numerous positive comments about the trail. We have added the RTP trail to our other trails section. From that page, you can find directions and a link to a map.
---
Light weight trail status
To better support mobile devices, we have released a light weight trail status page. This page displays a quick summary of our current trail status without the rich features used on our home page and trail status update page. In addition to this page, we are also reiterating that the additional information data for a trail status should only be used when there is important information that cannot be covered with a simple open/closed status. Thanks for helping us keep and display accurate and relevant trail status information!
---
Cyclist hit in malicious attack
Two cyclists were riding around 4pm on Saturday June 28 2008 (one cyclist is training for the Beach to Battleship & they were riding a 45 mi/loop out Apex/Lake Jordan way) and a car deliberately hit one cyclist, then tried to hit the other, missed, and then bolted. The rider is fine physically, but these people did this on purpose, which is beyond comprehension, and they're still out there somewhere. the riders were between the SkyWay gas station on Old Route 1 traveling southbound and the back entrance to Pea Ridge Rd. when this happened. Ambulance, State Police and Chatham Co. Sheriff were all there after and they've been given as much description as possible, but they don't think that they have enough to go off of - it was a charcoal grey Chrysler 300 M w/ the first license plate letters "XYT" and it has a newer NC plate w/ red lettering. This was no accident at all - they deliberately hit the cyclist and then tried for the other- the rider saw the car come up quickly in his peripheral vision and then saw the front passenger open their door to try to hit him with it, they missed and the rider heard a girl shouting from in the car, "Just go, go go!" The driver floored it and wildly went around a Ford Explorer that was in front of it - that driver witnessed the whole thing and got the partial of the plate, came back to the scene, etc. - the cyclist was able to lean right & get out of the way, and as soon as he could wrap his head around what was going on & that it was deliberate, he looked back to see his fellow rider down & in the road. He went back to get to her & get her out of the road, take care of her, etc. - she's beat up & has road rash, but otherwise is okay. Her helmet is cracked in two places and the front-end of her new tri bike was messed up, and we're all pretty angry, I think - especially her!

Anyway, we're going to see this car out there again, at some point, since they're still out there - charcoal gray Chrysler 300 w/ "XYT" as the first three letters. unbelievable!

If you have any information, please call the Raleigh Police Departmentís Detective Division at 919-890-3555.
---
The Land (www.freeridepark.com)

I received the following email and thought it would be of general interest. - TMTB
Greetings fellow mountain bikers

My name is Dave Dobbs and I'm writing to you about an 80 acre piece of freeride paradise called The Land (www.freeridepark.com). It's privately owned property in the beautiful Finger Lakes region of upstate NY where freeride trails have been under development for over 3 years. It's a place of top quality natural construction whose stunts and flow are unmatched outside of the Vancouver area. While currently closed to the public, there is a strong chance that The Land will open publicly in the coming year. Which brings me to why I'm writing to you

We're looking to develop some interest in The Land to help remove some of the roadblocks that are keeping this gem from being opened to you and other riders. This would be a first of its kind dedicated freeride park tailored to the intermediate and advanced rider.

To generate interest, we're selectively asking other mountain biking sites to add a link to our site, freeridepark.com, out of good faith and good will. Our current support page is dedicated to the long time volunteers and financial supporters of The Land, but may in the future include reciprocal links back to those that have supported us. So we're asking you TriangleMTB.com for your help in the growth of the grassroots freeride movement. If this is something that you're interested in or are willing to do, please contact myself or the property owner/webmaster Dave Royka at droyka@gmail.com to set things up. If you're not, then thanks for reading this letter and should you ever change your mind don't hesitate to contact Dave in the future.

Thanks for your time, and happy trails!

Dave Dobbs
Land Trail Manager
www.freeridepark.com
Nethingfast@gmail.com
---
Share the Road License Plate
The Share the Road license plate is now available for all NC residents. Go to the NCDOT Division of Bicycle and Pedestrian web site and download the application form.
http://www.ncdot.org/transit/bicycle/
Once we have the requisite applications and fees (300), the Division of Bicycle and Pedestrian Transportation will turn both over to the Division of Motor Vehicles, who will then enter this information into their system and request the manufacturing process to begin. This could take as long as three months. If at this point there are less than 3 months till your normal license renewal date, DMV will hold your plate until that date. You will keep your assigned number or "Personalized" moniker.
Twenty dollars of the thirty dollars collected in fees for each "Share the Road" plate will be transferred back to the Division of Bicycle and Pedestrian Transportation for bicycle safety and education initiatives. This will give everyone an opportunity to help promote highway safety and emphasize the importance of "Sharing the Road".
---
Some things you can do to help promote mountain biking. There are three fairly simple things you can do each year that are small individually, but whose combined effect is very significant. The 20 - 20 - 20 rule can be effective (with inflation it may be more correct to call it the 30 - 30 - 30 rule)

$20 to join IMBA
$20 to join your local mountain bike club
20 hours of volunteer trail work
Would you like more trails in the area? Would you like better trails? Would you like to have more stunts?
Consider getting involved.

Be somebody! Ever hear talk like somebody should call... or somebody ought to... or somebody needs to... ? Well, why not be somebody? We are all busy, but nothing gets done without effort. We all have differing amounts of time and effort we are willing to put forth and there are different levels of being somebody. If you are unsure of what you can do, please contact one of the local clubs for leadership. If you are a self-starter and can go the distance, consider contacting land managers and figuring out what needs to be done, develop a plan, and follow through. Once you get the door open, you will likely get support following directly behind.

How you can help get more trails on the ground?

There's Strength in Numbers--Subscribe to the email network, and then tell your friends to do the same. The more folks we can get involved, the better, especially when we need a showing of support for new trails.

Pick your favorite project -- Browse this site to learn about some of the projects fellow mountain bikers are working on and find out how you can help them to get a specific trail open.

Cash Money-- Please consider donating cash to trail organizations that will use it to make maps, trail signs, and buy trail repair materials. These include all four of the organizations listed above as well as TriangleMTB.com.

Talk to Your Buds-- Tell other mountain bikers about this web site and how they can help with new singletrack projects.

Prevent Trail Closings-- The best way to keep our trails open is to take care of them. Pack out what you pack in, pick up any litter you see, stay on the trails, don't ride closed trails, and be courteous to everyone you meet on the trail.

Support IMBA-- International Mountain Biking Association



---
Doing Trail work? Belong to a local cycling club? Have an opinion? Have a passionite story concerning riding? Organizing a ride?
TriangleMTB.com is an online resource for mountain bikers in the Triangle. I encourage all riders and clubs to send in news and information that want posted to trianglemtb@yahoo.com and help spread the word. Please give two weeks prior notice so we have time to create the necessary pages.
---
About TriangleMTB.com
Trianglemtb.com is an online resource for all mountain bikers in the Raleigh, Durham and Chapel Hill region of NC. It was created to help mountain bikers all over the Triangle to connect and communicate so, together; we can build more places for mountain biking. TriangleMTB.com is meant to bring together all the clubs and individuals in the Triangle who are working to build mountain bike trails. It's here as a gathering place--where bikers can tell the world about their favorite projects, share trail-building advice, advertise town meetings, races, and ribbon-cuttings, and learn about old and new places to ride. TriangleMTB.com was created and evolved by the work of several individuals as a donation to the mountain bike community. There is no fee for using TriangleMTB.com and the sponsors deserve thanks for paying the web bills.

We encourage you to donate your time and dollars to trail projects and trail clubs in the Triangle. Please visit this site again to learn about the latest news, and consider checking in on the forums from time to tome to see what is going on.
"I thought of that while riding my bicycle."
- Albert Einstein on the theory of relativity